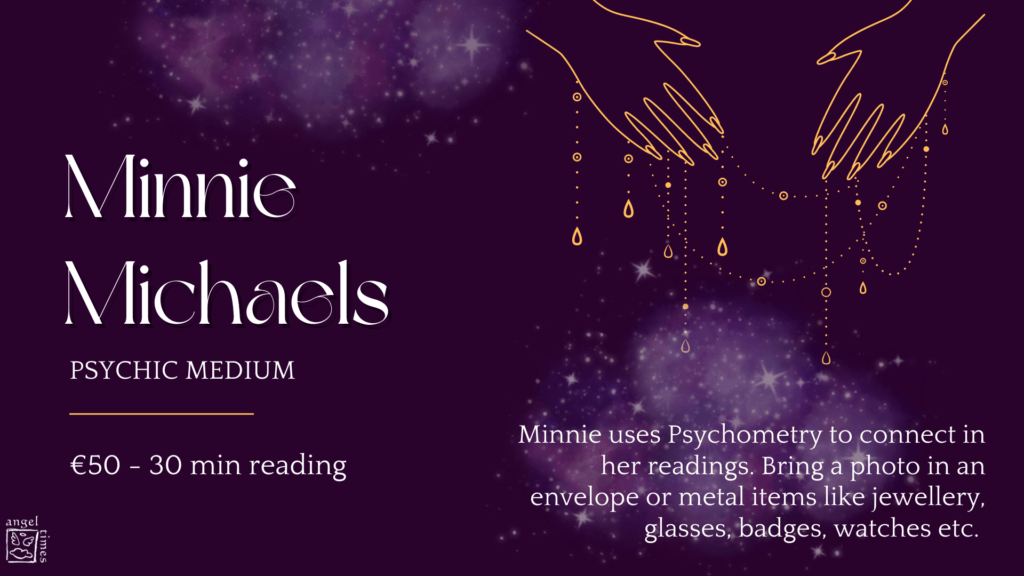 Minnie Michaels is an experienced professional Psychic Medium. She has trained with some of the most prestigious Psychic Mediums in the world. She has several years of experience and as a result is considered to be an excellent medium.
Minnie has been giving professional psychic readings for many years now and in addition is known to be professional, accurate and insightful.
Whatever information comes up for the Client, Minnie has professional training in helping that client to come to a level of understanding that gives them peace.
A reading takes 30 mins approximately and costs €50 inc €20 deposit.
Those hoping to connect with a loved one please bring items belonging to that person or photographs in an envelope. This speeds this up when trying to connect with them or preferably metal items like jewellery, spectacles, badges, watches etc. This is Psychometry.
Please see our Deposit & Cancellation Policy here.
Minnie is also offering remote Psychic Medium Readings. Just call us on 061 317721 or 087 2628539 to organise. You will need to give us your contact details and times that would suit you. After we receive payment we will then organise the reading for you.To pay the €50 fee by Paypal please click here
TESTIMONIALS
"I found Minnie Michaels excellent. I have visited her on two occasions. Both times she really helped me and gave me comfort in what she told me. I recommended her to 3 other family members and they also found her to be very accurate. She is a lovely lady and I will definitely book to see her again" – Sandra
"Having sat with Minnie 4 times in the last year, I must have referred at least a dozen people to Minnie and she has never disappointed. All have been delighted with her gentle, straight forward, to the point readings, deeply compassionate, yet free of that heavy intensity which often prevents us reaching out for this kind of guidance and support. Minnie tailors her readings with great precision to the person sitting with her in the most exquisite way. Let her take your hand, you are unlikely to regret it." – BD
"I have attended Minnie Michael's several times and it has always been an interesting and insightful experience. Minnie writes down the important aspects of what she has to say and this is great to have to look back on. She is very pleasant and welcoming. I would highly recommend a visit." – Anne