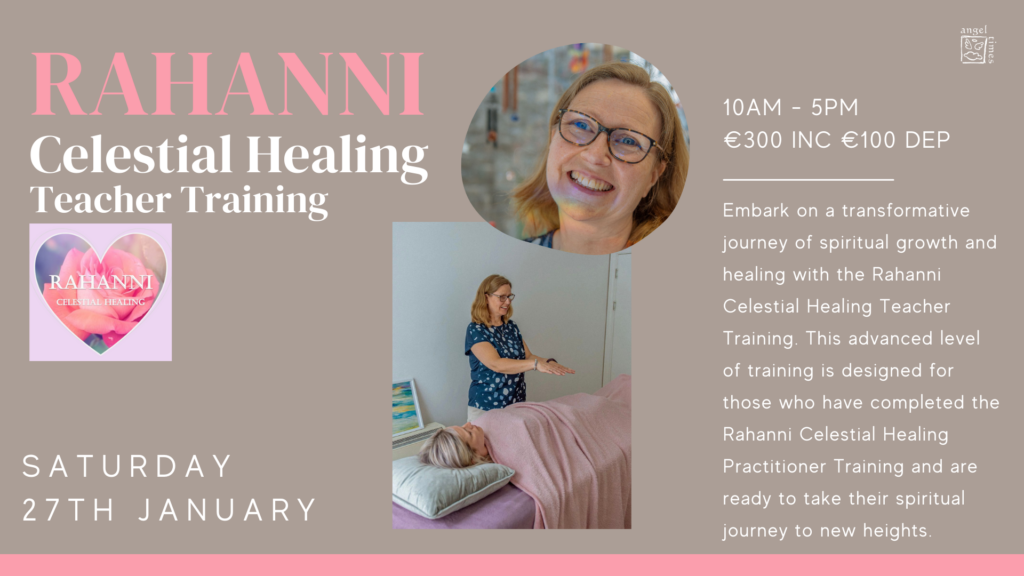 Rahanni Celestial Healing Teacher Training with Janet Kingston
Saturday, January 27th, 2024
10:00 AM – 5:00 PM
€300 (Including €100 deposit)
Embark on a transformative journey of spiritual growth and healing with the Rahanni Celestial Healing Teacher Training. This advanced level of training is designed for those who have completed the Rahanni Celestial Healing Practitioner Training and are ready to take their spiritual journey to new heights. Please note that a minimum of six months is required after completing the practitioner training to allow the high vibrations of Rahanni energy to assimilate within you and to gain sufficient practitioner practice.
About the Rahanni Celestial Healing Teacher Training:
In the Teacher Training, you will experience an attunement to the Rahanni Celestial Healing Teaching Level, which will elevate your spiritual vibration even further. This attunement will connect you with the powerful energies of Rahanni on a deeper level, enhancing your ability to channel healing energy for yourself and others.
Course Highlights:
Rahanni Symbols: Learn the sacred Rahanni symbols that are essential for channeling and teaching Rahanni Celestial Healing. These symbols hold the key to unlocking the healing energies of this beautiful therapy.
Attunement and Teaching: Discover the art of attuning individuals to both Practitioner and Teacher levels of Rahanni Celestial Healing. Gain the knowledge and skills to guide others on their own healing journeys.
Comprehensive Teacher Manual: Receive a comprehensive Teacher Manual that serves as a valuable resource for your teaching journey. This manual will provide in-depth information, techniques, and insights to enhance your teaching abilities.
Certificate of Completion: Upon successfully completing the Teacher Training, you will receive a certificate acknowledging your achievement and qualification as a Rahanni Celestial Healing Teacher.
Prerequisite:
To enroll in the Teacher Training, it's essential to have a strong practical understanding of the Rahanni Celestial Healing Practitioner Level. If you completed your practitioner level training elsewhere, kindly provide a copy of your practitioner certificate to ensure eligibility for the Teacher Training.
Investment:
The cost for this enlightening course is €300. This includes a €100 deposit. Your investment covers
the training materials
attunement
comprehensive teachings
certificate of completion
Elevate Your Spiritual Journey:
Even if your primary intention isn't to teach Rahanni Celestial Healing, this offers a unique opportunity to deepen your knowledge. It will raise your spiritual vibration, and gain profound insights into this transformative healing modality.
Join us on January 27th, 2024, for a day filled with divine energy, spiritual exploration, and the profound teachings of Rahanni Celestial Healing. Reserve your spot now to unlock the power of Rahanni and take the next step in your spiritual evolution.
Find out more about Rahanni by clicking here.
Janet Kingston also offers one to one Rahanni Sessions. To find out more click here.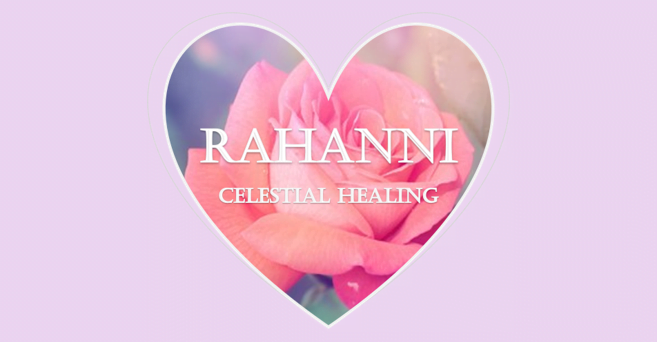 TESTIMONIAL
"I had the privilege of learning a new healing modality, Rahanni Healing, anyone who knows this will understand when I say WOW! Absolutely amazing day, I'm still on cloud 9. Thank you Janet – Angel Times, for your wisdom and compassionate teaching, I'm forever grateful." Martina Aylmer Dec 2022