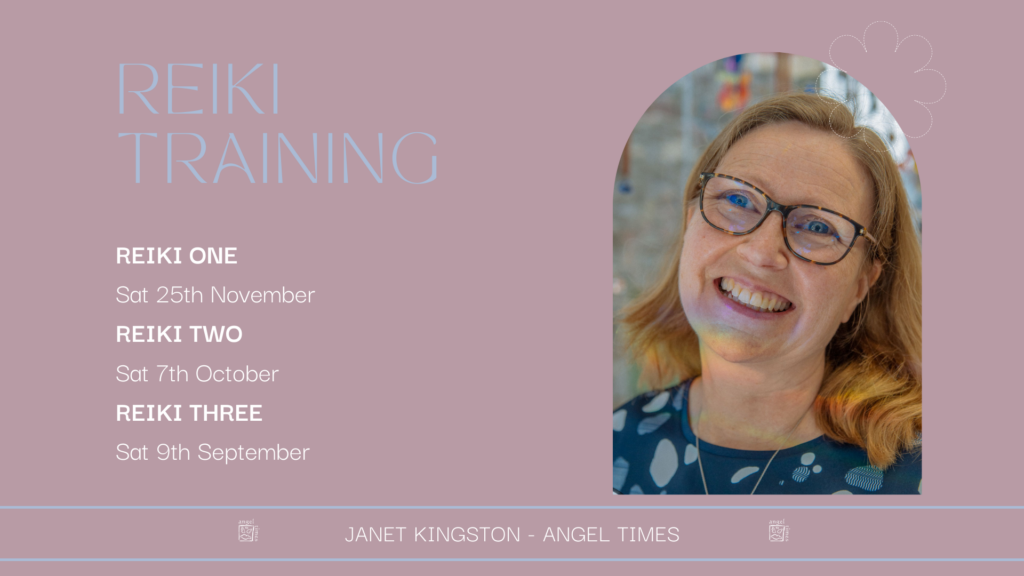 Tera-Mai Reiki is a specific form of Reiki training that emphasizes hands-on healing and spiritual well-being. The training, is conducted in a one-day workshop format, is led by Reiki Master Janet Kingston, who teach students the ancient method of channelling universal life energy through their hands. The purpose of this practice is to enhance physical, mental, emotional, and spiritual wellness for yourself and others.
Janet teaches with an emphasis on using your intuition rather than extensive study. This means that individuals with no prior experience can start their healing journey with Reiki. The energy channelled through the practitioner's hands is guided with intention and goes where it's needed, making it a powerful tool regardless of the practitioner's level of experience. Some individuals may even feel physical sensations, such as tingling, in their hands as they begin practicing Reiki.
The word "Reiki" itself is derived from two Japanese words: "Rei," meaning "God's Wisdom" or "Higher Power," and "Ki," which translates to "life force energy." So, Reiki can be understood as "spiritually guided life force energy." While an exact translation may be challenging, this definition captures the essence of Reiki.
Principles of Reiki
After completing Tera-Mai Reiki training, students are encouraged to live their lives according to a set of ethical principles. These principles were written by Dr. Mikao Usui, the founder of the Reiki Healing System. They serve as guidelines for promoting peace and harmony in one's life. The ethical principles of Reiki, as outlined by Dr. Usui, are as follows:
Just for today, do not worry.
Just for today, do not anger.
Honor your parents, teachers, and elders.
Earn your living honestly.
Show gratitude to everything.
These principles provide a moral and spiritual framework for Reiki practitioners to follow, aligning their actions with the core values of this healing practice.
Janet Kingston has been sharing her expertise in Tera-Mai Reiki since 2005. Her perspective on a Reiki class as a special and ceremonial day highlights the importance of treating this training with reverence and respect. Approaching Reiki with a ceremonial mindset can help create a conducive atmosphere for learning and connecting with the healing energy.
The advice to avoid alcohol and other substances around Reiki training aligns with the principles of maintaining a clear and focused state of mind. These substances can potentially interfere with the receptivity and sensitivity that are valuable in practicing Reiki. Additionally, maintaining a healthy lifestyle, both physically and mentally, can enhance one's ability to channel and work with the energy effectively.
Tera-Mai Reiki offers a structured progression through its different levels, each building upon the knowledge and skills learned in the previous level. Here's an overview of what you can expect in each level:
Reiki 1
Reiki Level 1, as taught by Janet Kingston, provides students with essential knowledge and skills to begin their journey into energy healing. Here's a breakdown of what students can expect to learn and experience in this level:
· Chakras: Students are introduced to the concept of chakras, which are energy centres in the body. They learn how to clear and balance these chakras, promoting overall well-being and energy flow.
· Self-Healing and Healing Others: Students learn how to perform Reiki healing on themselves, their family, and friends. This involves channelling life force energy through the hands to facilitate healing on physical, emotional, and spiritual levels.
· Distant Healing: Students are taught how to perform distant healing, which allows them to send Reiki energy to individuals who are not physically present. This expands the possibilities of healing across time and space.
· Dowser or Pendulum Use: Students learn how to use a dowser or pendulum, tools that can aid in energy work and provide insights into energy imbalances.
· Grounding and Energy Protection: Students are educated on the importance of grounding, which helps maintain balance and stability, and they learn techniques to protect their own energy and the energy of others.
· Attunement to Tera-Mai Reiki 1: The attunement process is a significant aspect of Reiki training. It allows students to connect with an unlimited supply of life force energy and raises their vibrational frequency. This attunement process is followed by a 21-day clearing period, during which students may experience personal shifts and adjustments.
· Gift of Reiki: Graduates of Reiki Level 1 leave with the wonderful gift of Reiki, enabling them to access and utilize healing energy for themselves and others.
· Certificate and Manual: Students receive a Certificate for Tera-Mai Reiki Level 1 and a comprehensive manual that serves as a reference guide for their practice.
Janet Kingston's advice to leave a gap of several months before moving on to the next level is important. This time allows students to integrate the teachings, energy and experiences from Level 1, ensuring a solid foundation before advancing to more complex aspects of Reiki practice.
By completing Reiki Level 1, individuals gain a powerful tool for healing, personal growth, and spiritual development. It's a transformative journey that opens up a world of possibilities for those interested in energy work and holistic well-being.
Reiki 2
After a period of integration and practice following Level 1, students can progress to Level 2. In this level, the intensity of the Reiki energy is increased. Students learn Reiki symbols that empower the techniques they learned in Level 1. The attunement to Tera-Mai Reiki 2 further raises their vibration, and a clearing process occurs to accommodate this shift. Students receive a Certificate for Tera-Mai Reiki Level 2 and a comprehensive manual to support their continued practice.
Reiki 3 (Master/Teacher Level)
Following another period of integration and practice after Level 2, students can advance to the Master/Teacher Level (Level 3). This level is designed for those who wish to become Reiki teachers and guides for others. In this level, students are shown how to teach each level of Tera-Mai Reiki, and there is ample time for practice. They learn additional symbols, explore Planetary Healing, and receive initiations into the Order of Melchizedek, Yod, and the Violet Flame Attunement, expanding their understanding of energy work. Similar to the previous levels, an attunement to Tera-Mai Reiki 3 Master/Teacher occurs, and a further elevation of their vibration occurs. Students receive a Certificate for Tera-Mai Reiki Level 3 Master/Teacher and a comprehensive manual. Once this level has been completed the client is then able to teach all levels of Tera-Mai Reiki.
Throughout this progression, the gap of several months between levels is crucial for students to integrate the teachings, deepen their understanding, and allow for personal growth. It ensures a solid foundation and optimal readiness for the next level of learning. Each level expands upon the previous one, providing a comprehensive understanding of Reiki and energy healing, leading students towards mastery and the ability to teach others.
Janet Kingston's approach to Reiki training emphasises a balanced combination of practice, theoretical understanding, and personal growth, making it a fulfilling and transformative journey for individuals seeking to harness the power of Reiki.
TERA-MAI REIKI TRAINING TESTIMONIALS
"Janet is a teacher and practitioner of exceptional experience, ability, skill, intelligence, gentleness, humility and grace. It is my great honour to have been inspired by her tutorship many times. A rare jewel in an ocean of quality teachers in Ireland, Janet will transport you into a world of magical energy at your own comfort level and pace, while touching your heart in a way you will always remember. Limerick's best hidden treasure has been in plain sight throughout boom, bust and chaos, a steadying pair of healing hands with a heart of pure 24 carat." – BD
"I absolutely love Angel Times- it's definitely my favourite shop in Limerick! I have been to Reiki Level I, II & III with Janet along with many healing sessions. Janet is a very gifted healer. She is a wonderful person and I always enjoy being in her presence with the bright healing energy she brings. I highly recommend booking with Janet for a healing session or if you are looking to learn reiki to practice it for yourself." – Lorraine L