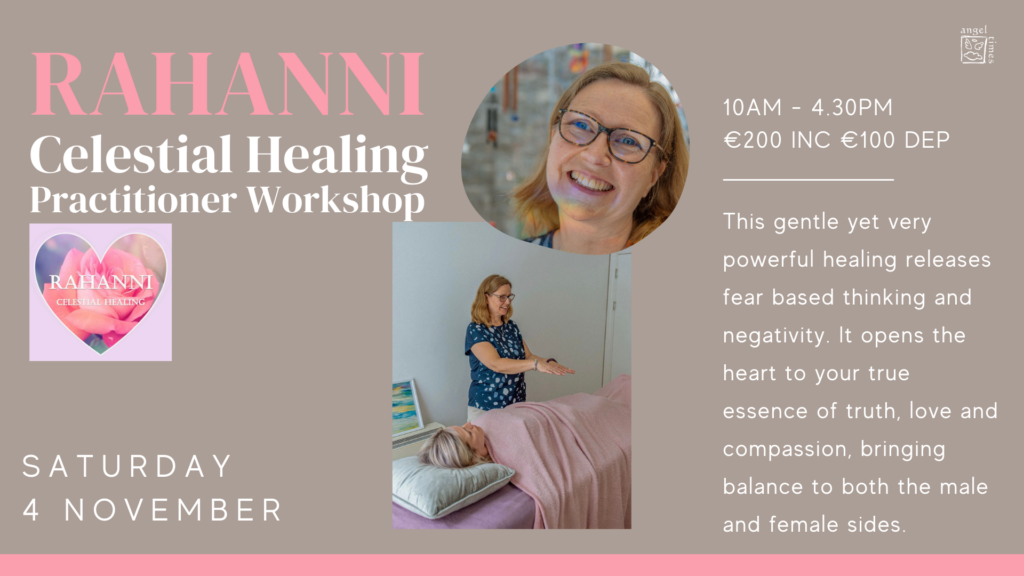 Rahanni Celestial Healing with Janet Kingston
Saturday, November 4th
10:00 AM – 4:30 PM
€200 (Including €100 deposit)
Embark on a journey of spiritual awakening and holistic healing with the Rahanni Celestial Healing workshop, guided by the experienced healer and teacher, Janet Kingston. This transformative workshop introduces you to the power of Rahanni, a 5th-dimensional healing energy recently brought to Earth to promote healing, balance, and heart-centered consciousness.
Workshop Highlights:
5th Dimensional Healing: Discover the profound healing energy of Rahanni, a 5th-dimensional frequency that aids in releasing fear-based thinking and negativity. Rahanni is a gentle yet powerful force that opens your heart to truth, love, and compassion.
Balancing Energies: Rahanni brings harmony to both the masculine and feminine aspects within, fostering a state of equilibrium and unity.
Channeling Higher Beings: While practicing Rahanni, you'll connect with the Ascended Masters, Archangels, Celestial Pink Angels, and the energy of the 6-pointed star. This connection amplifies the healing potential and helps bring inner peace and transformation.
Raising Vibrations: Through attunement, your energy vibration will be elevated to a higher level, enabling you to become a conduit for healing light from the Source or the divine.
What you get from this workshop
Overview of Rahanni: Gain an understanding of Rahanni and how it operates within the realms of healing and transformation.
Self-Healing Techniques: Learn how to perform Rahanni healing on yourself, experiencing its benefits firsthand.
Distant Healing: Discover the art of distant healing, allowing you to send healing energies across space and time.
Healing Others: Acquire the skills to administer Rahanni healing to others, with practical experience during the workshop.
Professional Use: With practice and further learning, you'll have the ability to incorporate Rahanni Celestial Healing into your professional healing practice.
Course Materials: Receive a comprehensive manual and a certificate upon successful completion of the workshop.
Prerequisite and Attunement: No prior experience is necessary to attend this workshop. Janet Kingston, an experienced Rahanni practitioner and teacher, will guide you through the attunement process, allowing you to tap into the healing energies of Rahanni.
Becoming a Teacher: For those aspiring to become Rahanni Celestial Healing Teachers, a minimum of 6 months of practicing Rahanni is required.
Course Details:
Date: Saturday, November 4th
Time: 10:00 AM – 4:30 PM
Course Fee: €200 (Including €100 deposit)
Join us on this enlightening day of discovery, healing, and transformation. Elevate your spiritual journey and gain the tools to harness the healing energies of Rahanni. Secure your place in advance and open the doors to a world of heart-centered wellness and vitality. For registration by phone, please call 061 317721.
Find out more about Rahanni by clicking here. 
Janet Kingston also offers one to one Rahanni Sessions. To find out more click here.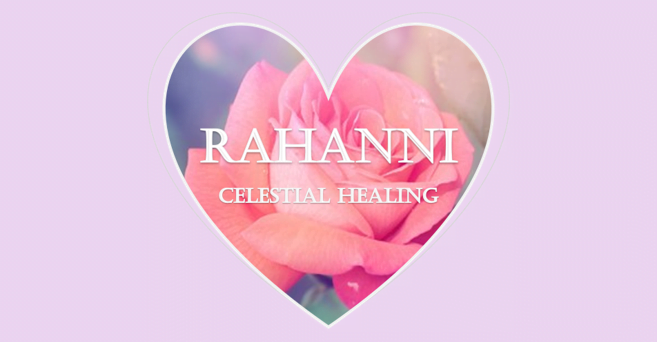 TESTIMONIAL
"I had the privilege of learning a new healing modality, Rahanni Healing, anyone who knows this will understand when I say WOW! Absolutely amazing day, I'm still on cloud 9. Thank you Janet – Angel Times, for your wisdom and compassionate teaching, I'm forever grateful." Martina Aylmer Dec 2022