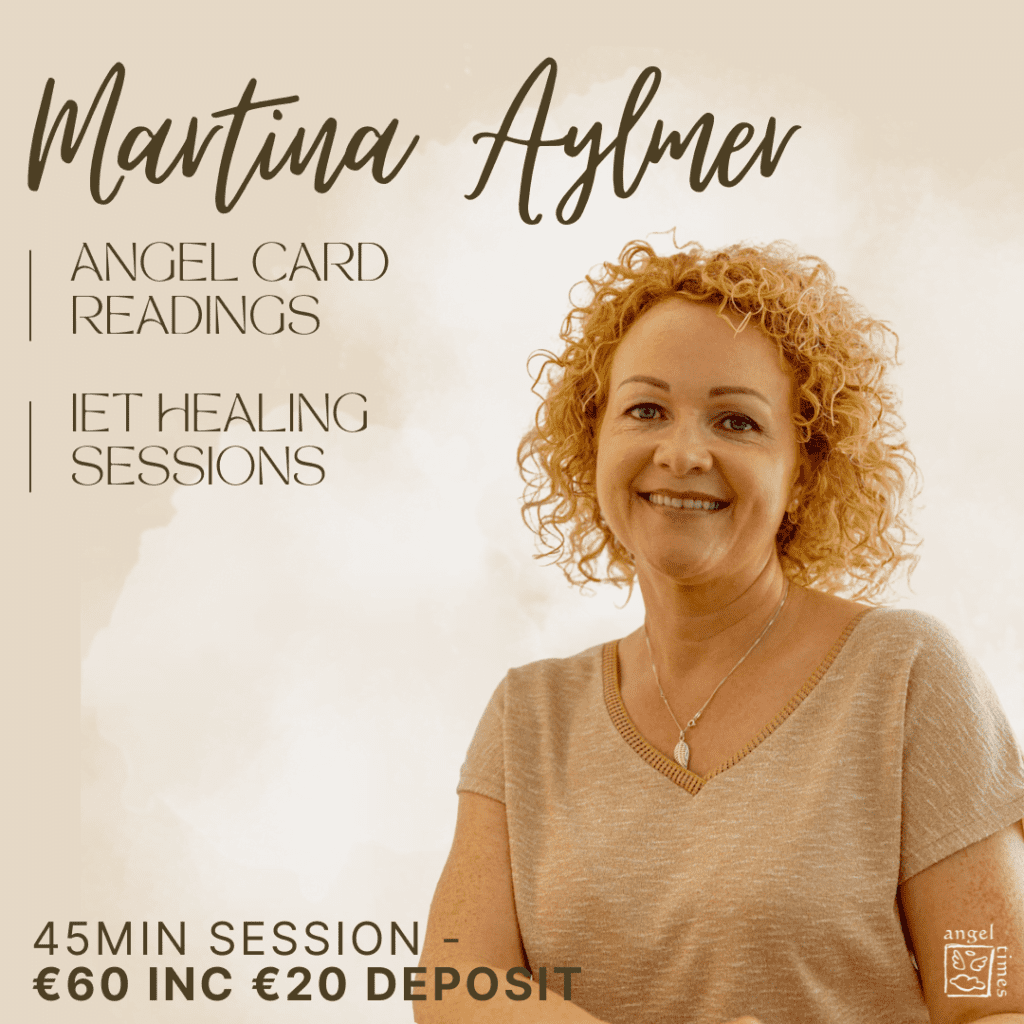 Martina channels intuitively from the Angelic Realm. If you are at a crossroads, if you know something must change but can't quite put your finger on it. Then it's time for Angelic intervention!
Martina works with your Angels, Spirit Guides and Ascended Masters. They bring you the guidance, direction and motivation you will need in this challenging time.
As a result, after the reading with Martina you will feel hopeful, positive and empowered to take on life's challenges.
Martina is also a Master Instructor in Integrated Energy Therapy ( I.E.T) and is offering I.E.T. sessions on the same date. I.E.T ™ is a hands on Healing method where Martina works with nine Healing Angels from the Angelic Realm, this treatment is gentle and nurturing with powerful results. In effect I.E.T ™ will help you move on in your life by releasing old habits, patterns and traumas from your energy body that hold you back.
An I.E.T™ treatment will last for 45 minutes and all that's required is an open mind and open heart !
Martina also teaches Integrated Energy Therapy, where you will learn how to Heal through the Angelic Realm on yourself or friends, family and clients. For more information on I.E.T ™ please visit www.learniet.com
Each of the Angel Cards and IET Sessions with Martina will last 45 minutes at a cost of €60 inc €20 deposit.
To book a reading in Angel Times use the calendar below.
Please also see our Deposit & Cancellation Policy.
TESTIMONIALS
"My reading with Martina was a once in a lifetime experience. Martina had such a loving energy and was incredibly accurate in everything that she said during the reading. She was gentle and understanding in her approach and she gave advise on how to better handle certain situations. She ended the reading with some IET Healing which was a wonderful finish. I would recommend Martina to anyone looking for guidance and healing." – Michael H
"It's always such a pleasure to visit Angel Times, to browse their store and chat with the knowledgeable and ever-friendly team. I recently had a card reading with Martina Aylmer, my first time ever getting a reading. Martina was incredibly welcoming and put me at ease straight away. It was such a great experience, I can't wait to return." Rachel L
"Please note that readings are intended to be used for guidance purposes only and you should not make any decisions based solely on a reading. Please always seek professional advice when needed."