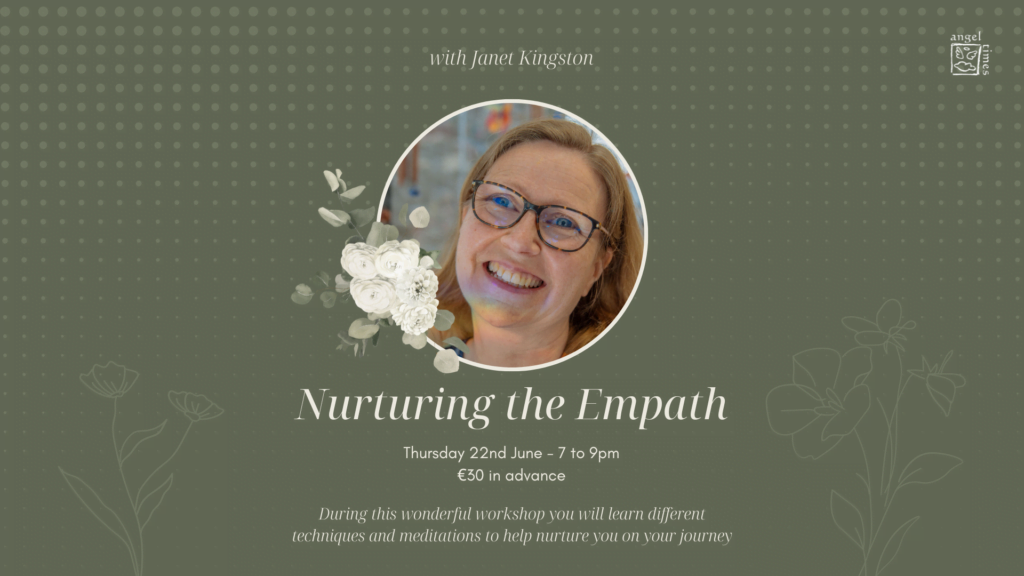 Nurturing the Empath with Janet Kingston
Thursday 22nd June from 7pm to 9pm, €30 in advance.
Are you an Empath?
Do you feel other peoples' emotions or pain?
Are you the person that people turn to when they need someone to talk to?
Have people told you that you are too sensitive?
Is it hard for you to watch the news or sad movies?
If this feels like you, this workshop will help you to mind your energy and nurture yourself.
During this 2 hour Nurturing the Empath Workshop we will discuss the importance of grounding, protecting and clearing your energy. You will learn different techniques and meditations to help nurture you on your journey, such as working with Divine Love, practicing gratitude, journaling and starting your day off with a positive practice.
To attend this workshop no previous experience is required. The course will be facilitated by Janet Kingston who has been teaching Reiki and running workshops for 18 years.
Here is some feedback from previous happy clients…
"I had the privilege of learning a new healing modality, Rahanni Healing, anyone who knows this will understand when I say WOW! Absolutely amazing day, I'm still on cloud 9. Thank you Janet – Angel Times, for your wisdom and compassionate teaching, I'm forever grateful." Martina Aylmer Dec 2022
"Hi Janet I would like to take this opportunity to thank you so much for the wonderful experience I had with you yesterday. I went to you for Rahanni Celestial Healing it was my first introduction to it and won't be my last I found it to be most amazing but also a very gentle healing. I'm so looking forward to experiencing this beautiful healing again and would highly recommend it. Blessings and love, Maya"