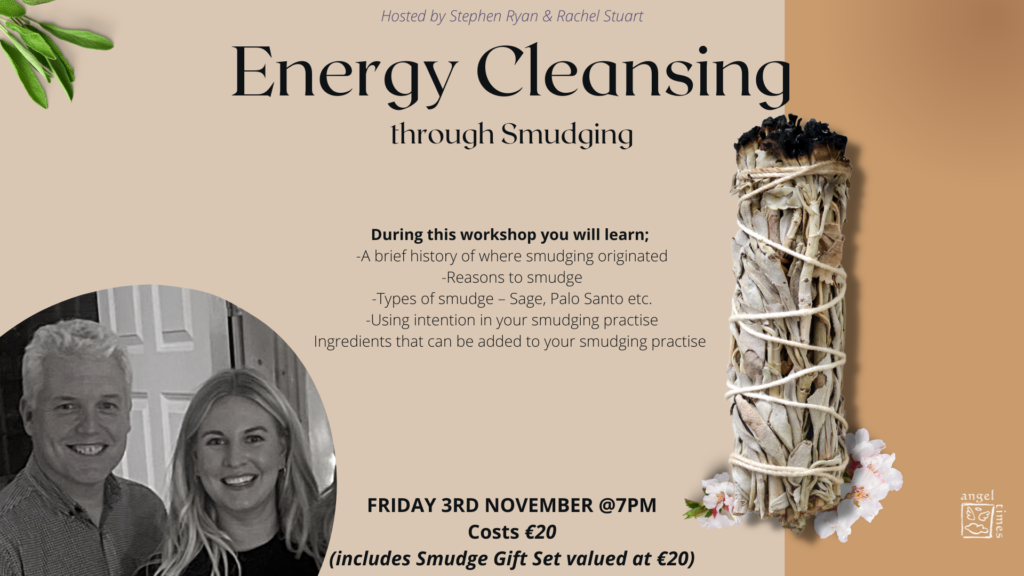 ENERGY CLEANSING THROUGH SMUDGING
Join us on Friday, November 3rd, from 7pm to 8pm, for an enriching evening exploring the art of Energy Cleansing through Smudging, led by Stephen Ryan and Rachel Stuart. This transformative event, hosted by Angel Times, offers an opportunity to delve deep into the ancient practice of smudging.
Event Details:
– Date: Friday, November 3rd 2023
– Time: 7PM – 8PM
– Cost: €20 (including a Smudging gift set valued at €20)
Event Description:
Smudging, a centuries-old ceremonial tradition practiced across diverse cultures, serves as a means to purify and cleanse the soul of negative energies associated with individuals or spaces. It involves the creation of sacred smoke by burning medicinal or sacred plants and its effects are truly profound.
Imagine smudging as an energetic bath of aromatic smoke, akin to washing your hands to cleanse your body. This ritual is believed to release negative ions, a phenomenon associated with a more positive mood and numerous other well-being benefits. You may have experienced this serene feeling in nature, where negative ions are naturally abundant, thanks to sunlight and water.
When you smudge your home, workspace, or even your own body, it's akin to taking an energetic shower, directly reducing stress levels and promoting a sense of tranquillity.
During this insightful evening, you will embark on a journey of discovery, gaining knowledge about:
– The fascinating history and origins of smudging rituals.
– Compelling reasons why smudging can become an essential practice in your life.
– Exploring various types of smudging, including Sage, Palo Santo, and more.
– Harnessing the power of intention in your smudging practice.
– Unveiling secret ingredients that can be incorporated into your smudging rituals to attract positivity, abundance, and more.
Don't miss out on this opportunity to learn and experience the transformative power of smudging with Stephen & Rachel. Reserve your spot now and take the first step towards a more balanced and harmonious life. Plus, your €20 registration fee covers the cost of the amazing Smudging Gift included on the evening of the event, ensuring that you leave with the tools you need to continue your journey of spiritual cleansing and rejuvenation.
If you wish to pay by phone please call +353 61 317721.
See a full list of our events here.