Eileen McCourt is a wonderful spiritual teacher, here to help you on your journey. Eileen McCourt Workshops are held in Angel Times, Limerick. We are delighted to announce six amazing events happening between the 19th and 21st October this year.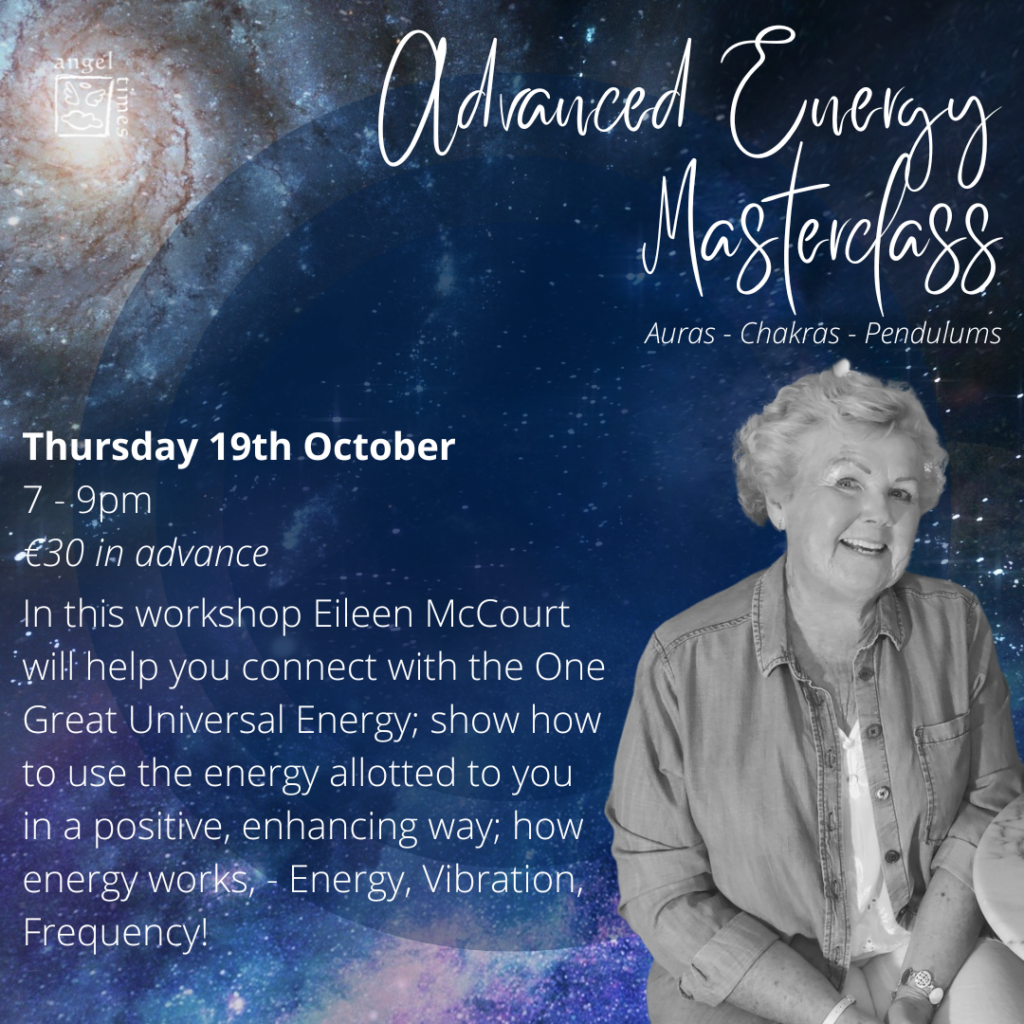 ADVANCED ENERGY MASTERCLASS
THURSDAY 19TH OCTOBER 7PM – 9PM
The Advanced Energy Masterclass is for anyone looking to develop their connections with their energy selves, and the energy around them through Auras, Chakras and using a pendulum. In this workshop Eileen McCourt will help you learn how to connect with the One Great Universal Energy we call God / The Universe. Find out more.
PSYCHIC SURGERY WORKSHOP
FRIDAY 20TH OCTOBER 9.30AM – 1PM
The Psychic or Energetic Surgery Practitioner Workshop is part of Kahuna Reiki. The word 'Kahuna' comes from Hawaii and means priest, master, expert or counsellor. With this technique, we can help at different levels, – physical, emotional, mental or spiritual. It is important to remember that this is not meant to be a replacement or substitute for medical surgery or medical treatment. Find out more.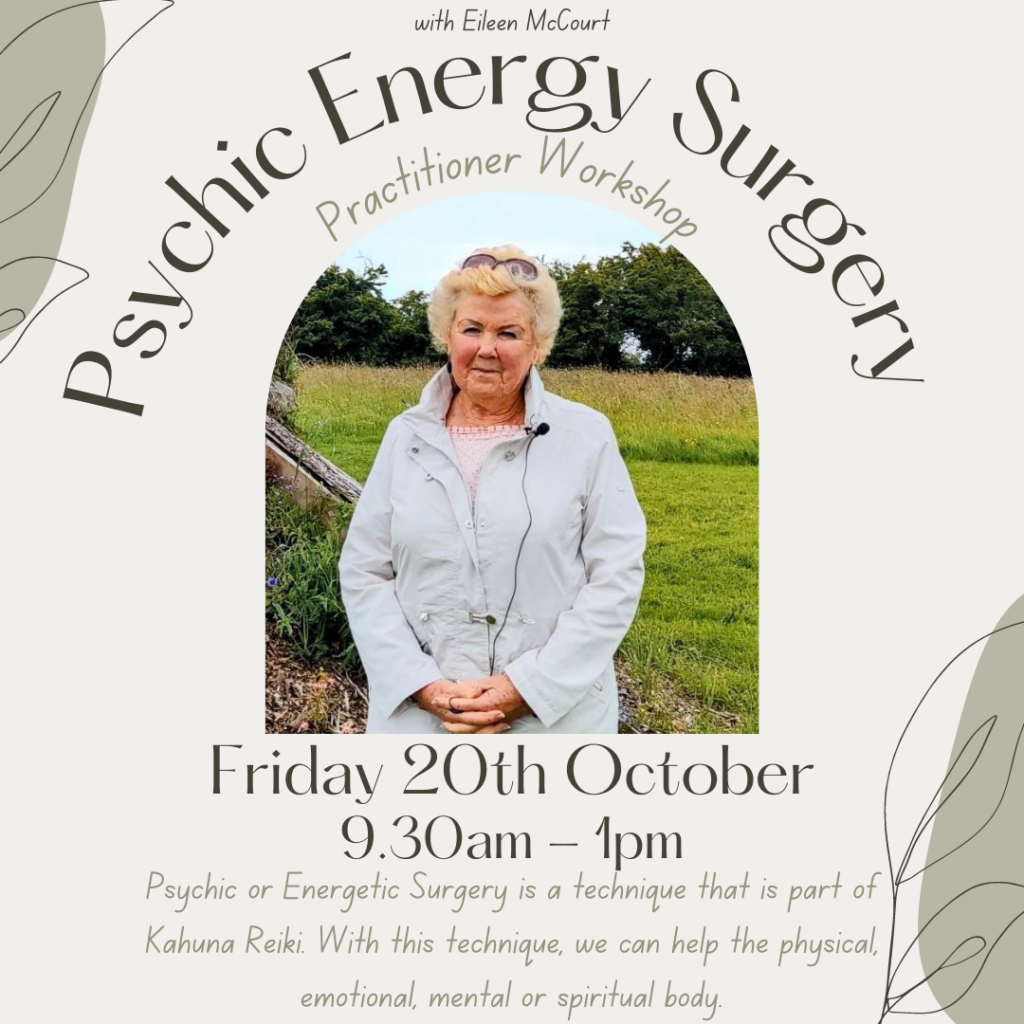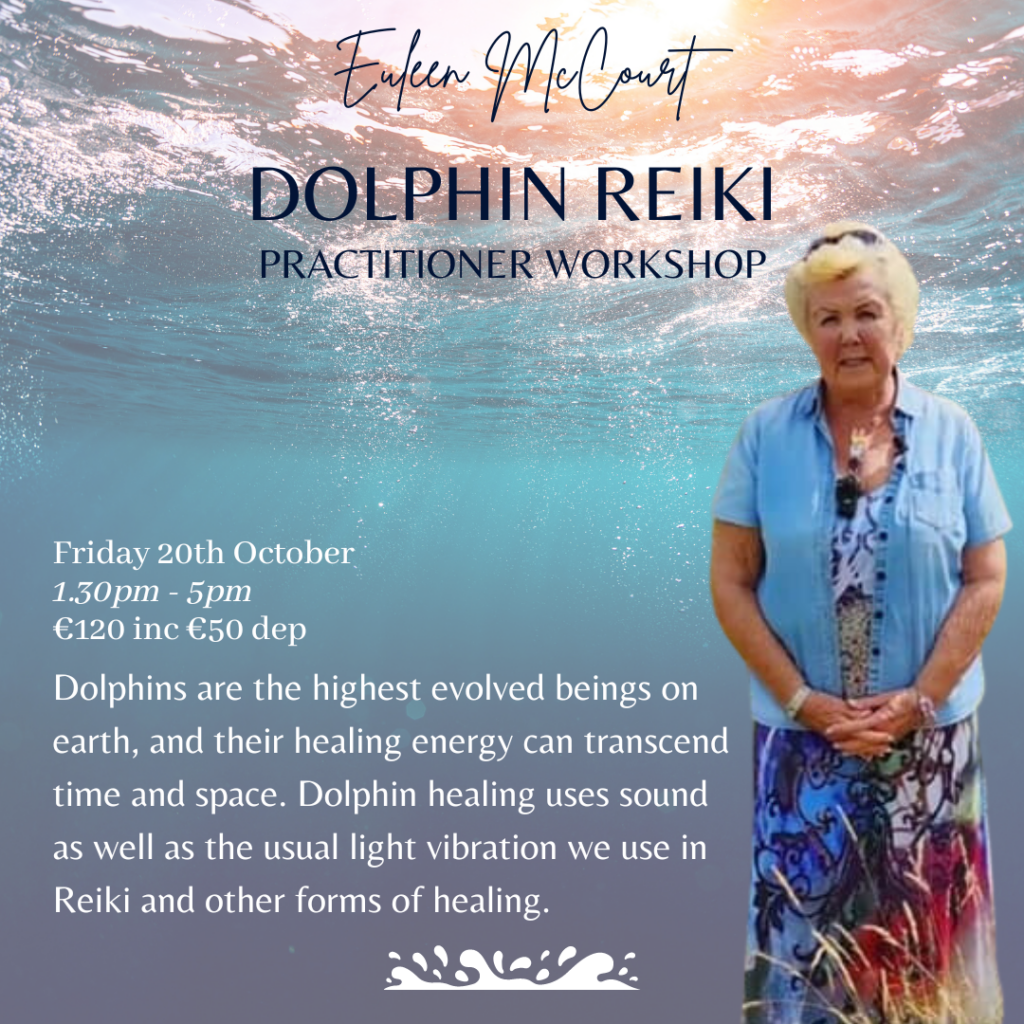 DOLPHIN REIKI PRACTITIONER
FRIDAY 20TH OCTOBER 1.30PM – 5PM
A Dolphin attunement is of a high cosmic frequency and different to what humans are used to. This attunement will increase your soul vibrational level throughout your body which has already been activated by your Reiki attunements. Dolphin energy is unique in that it does not just heal the spiritual human body, but it works on your higher level within the cosmos associated with your soul or Higher Self. Find out more.
ACTIVATING THE THIRD EYE WORKSHOP
FRIDAY 20TH OCTOBER 7PM – 9PM
We are spiritual beings having a physical experience. We are all in a physical body here on this third dimension earth energy vibration level. This third eye represents the inner eye, able to perceive reality beyond the ordinary vision, it is the door of clairvoyance and of the superior vision. The third eye is the connection with one's intuitive mind, with the Higher Self, let us also say with one's Soul. Find out more.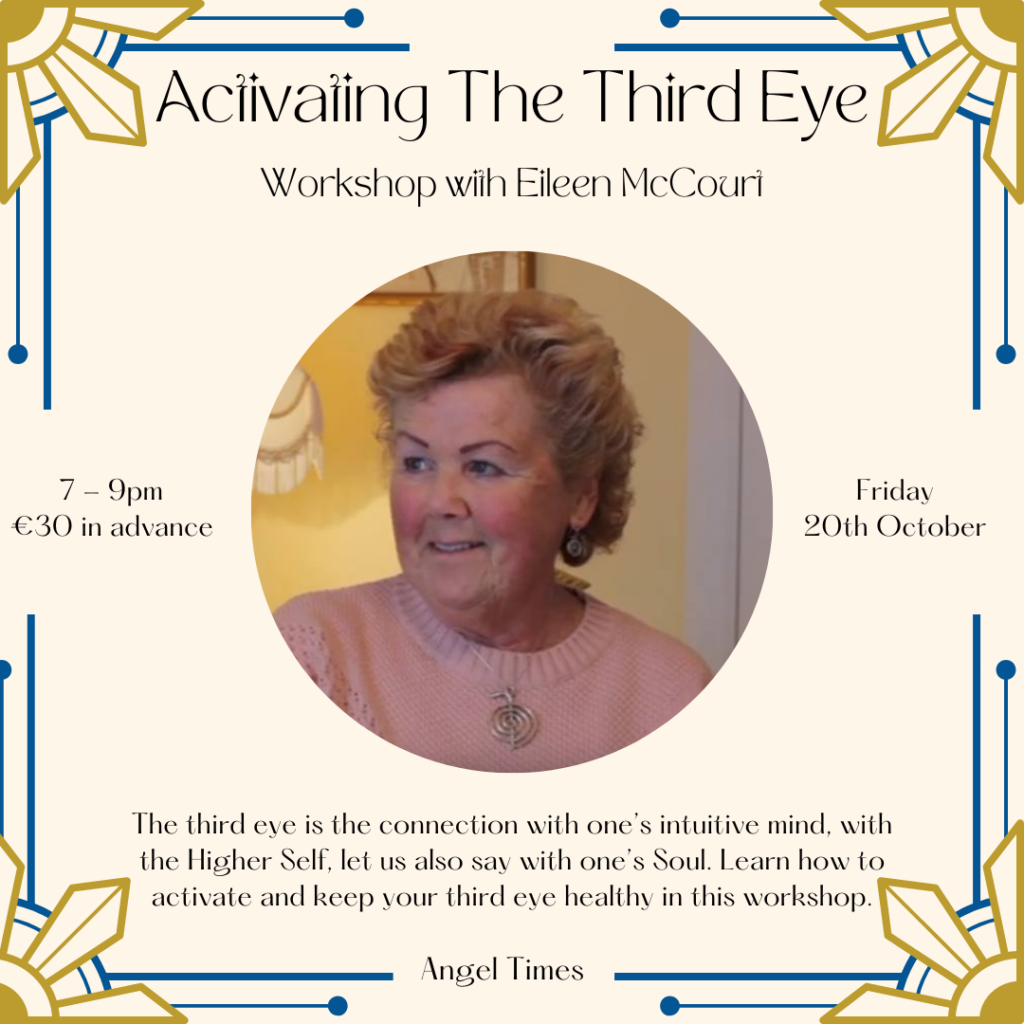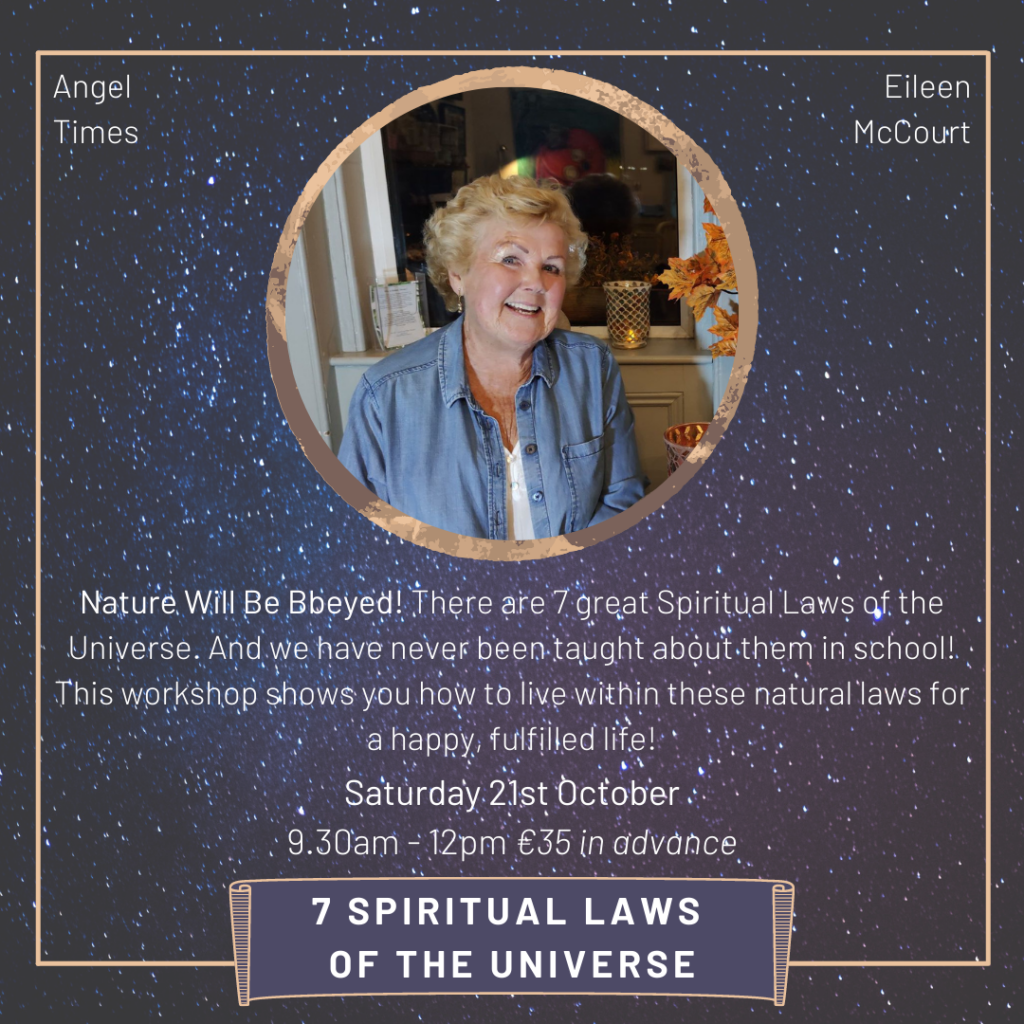 7 SPIRITUAL LAWS OF THE UNIVERSE
SATURDAY 21ST OCTOBER – 9.30AM – 12PM
There are 7 Spiritual Laws of the Universe. We are not taught about them in school! This workshop shows you how to live within these natural laws for a happy, fulfilled life. Moreover, disobeying them brings no punishment. NOT living within the 7 Spiritual Laws of the Universe simply means you are trying to swim upstream against the current. Why would you ever want to do that? – When adhering to them guarantees you a happy, fulfilled life! Find out more.
MOTHER NATURE – SEE THE SIGNS
SATURDAY 21ST OCTOBER – 12.30PM – 2.30PM
Mother Nature – See The Signs Workshop will help you with Seeing and interpreting the signs from Mother Nature/ The Universe. The Universe and Mother Nature is constantly sending us signs, – and it's not just white feathers and robins! The key to recognising and understanding the signs from Mother Nature lies in understanding the great cosmic hologram. Find out more.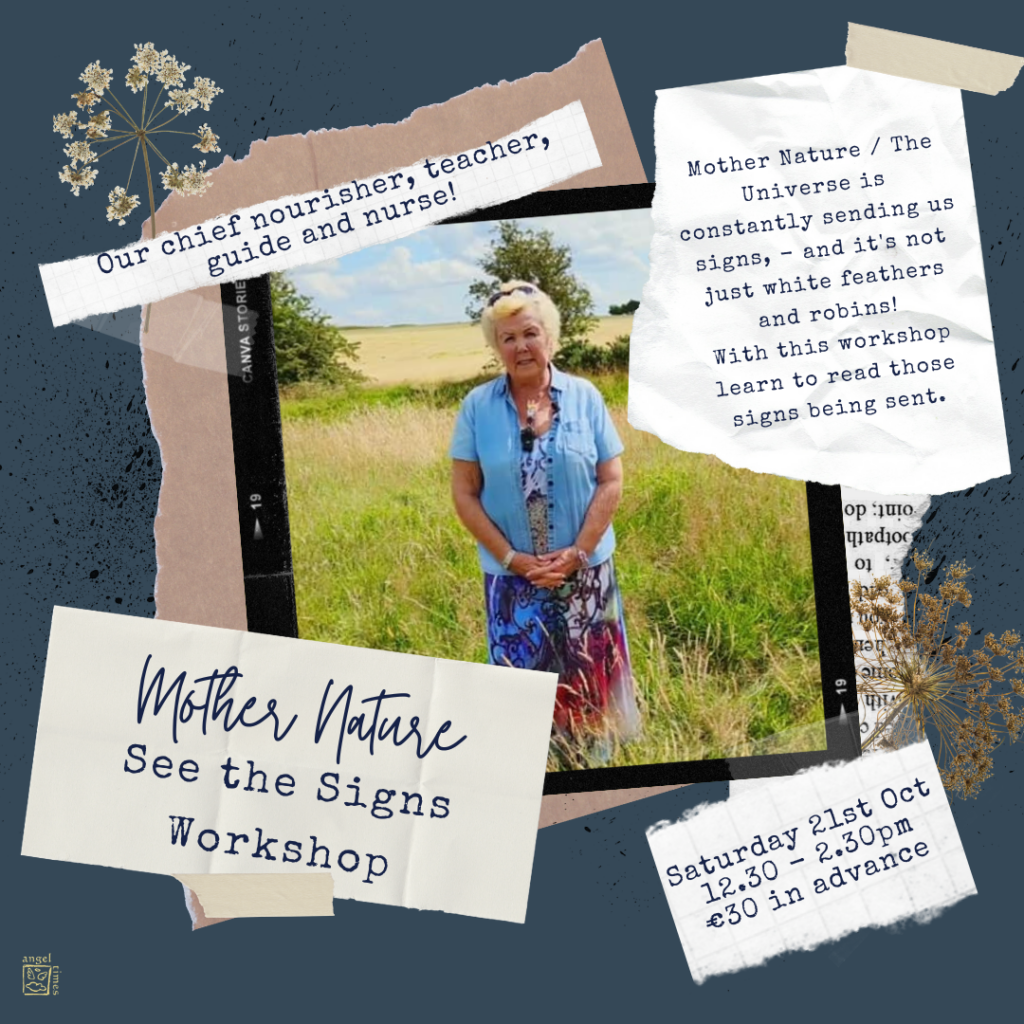 Learn more about Eileen McCourt here.