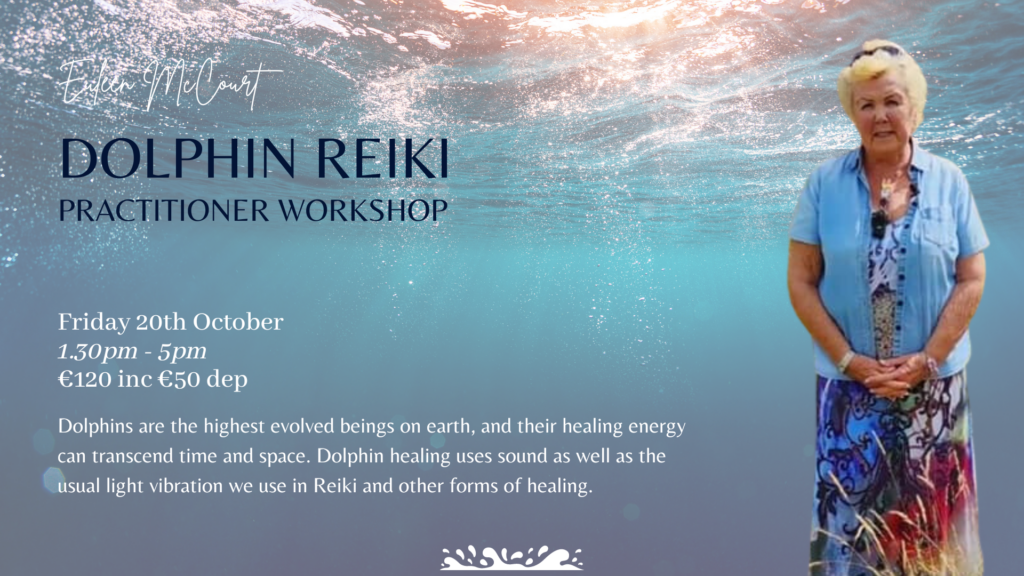 DRAGON REIKI PRACTITIONER COURSE
Friday 20th October 2023 – 1.30pm – 5pm
€120 including €50 deposit
Dolphins have a special place on our planet as they have the ability to communicate on a higher level. Dolphins are the highest evolved beings on earth, and their healing energy can transcend time and space. They have come from the Sirius solar system and the Pleadians.
Working with dolphins is an emotional and uplifting experience, similar to the unicorns, but in a different vibration. Dolphin healing uses sound as well as the usual light vibration we use in Reiki and other forms of healing.
Out of all the creatures on the planet, the dolphins have one of the highest intelligence. They are able to communicate and interact with people, and they have the ability to learn complicated tasks. Dolphins are able to help children with special needs, giving these children healing. They have a universal appeal, symbolising freedom, joy, grace and serenity, uplifting the spirits of all who come in contact with them.
Dolphins have often been known to save lives at sea, instinctively knowing when someone needs to be rescued, their psychic ability being very intense.
On a higher level, dolphins have agreed to teach mankind the importance of love and forgiveness. Dolphins are equal to Ascended Masters, Archangels and Unicorns, but they are in solid form, and this is what makes them so special.
Dolphins are very sociable, and those who are attuned to the dolphin energy will be joined by a pod of healing dolphins. They use cosmic energy to heal karma and emotional damage so the soul can evolve. Their energy moves in pulse waves, unlike traditional Reiki which is a static constant movement.
Attunement
A Dolphin attunement is of a high cosmic frequency and different to what humans are used to. This attunement will increase your soul vibrational level throughout your body which has already been activated by your Reiki attunements. Dolphin energy is unique in that it does not just heal the spiritual human body, but it works on your higher level within the cosmos associated with your soul or Higher Self.
The symbols in the attunement are very strong and intense: The Wholeness symbol, which brings the person's soul, higher self, mental and physical body into alignment; the Cosmos symbol, which represents Universe energy above and solid energy below, drawing in the energy of the Higher Realms, your guides, angels, the universe and the cosmos; the Source symbol, which represents Source embracing but dividing good and bad, light and dark, enabling enlightenment.
This Atlantean Dolphin healing energy helps you to be true to yourself and not live a lie. New experiences will certainly be brought in for you with this special gift of Atlantean dolphin healing!
To attend this workshop you must have previously completed Reiki Level 1.
Your manual will be emailed so please provide an email address.
The cost for this workshop is €120 including €50 deposit.
If you wish to pay by phone please call +353 61 317721.
Learn more about Eileen McCourt here.
See a full list of our events here.