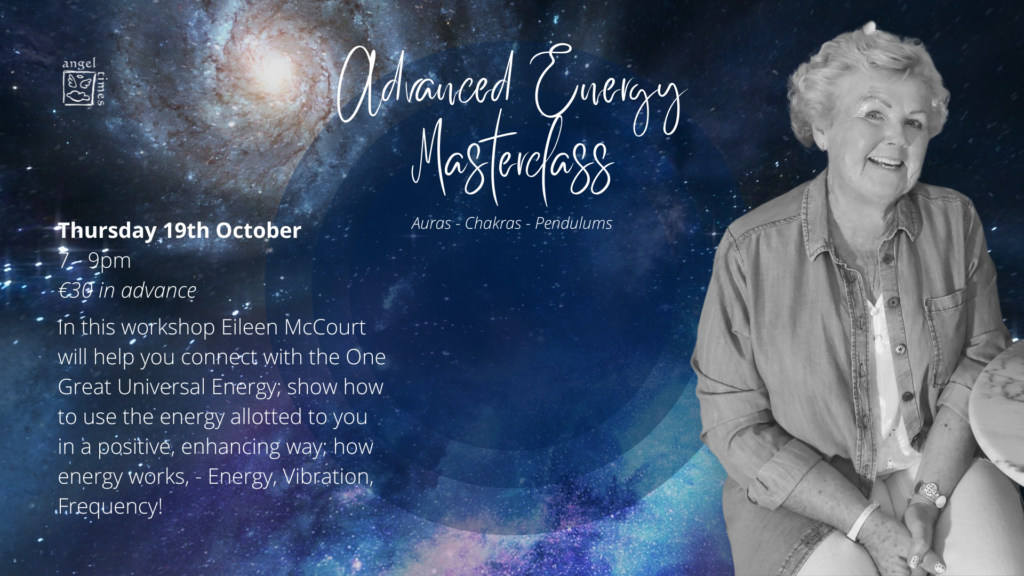 ADVANCED ENERGY MASTERCLASS
Thursday 19th October 2023 – 7 – 9pm
€30 in advance
After a wonderful Energy Connection workshop during Eileen's last visit, we are delighted that she has developed this brand new workshop to follow on from there. The Advanced Energy Masterclass is for anyone looking to develop their connections with their energy selves, and the energy around them through Auras, Chakras and using a pendulum.
Everything is energy, absolutely everything. All things have an energetic essence.
In this workshop Eileen McCourt will help you learn how to connect with the One Great Universal Energy we call God; how to experience your own Light Body, your own Energy Body; how to use the energy allotted to you in this life time in a positive, enhancing way; how energy works, – Energy, Vibration, Frequency!
We will be working with your Aura & Chakras and using a Pendulum, so if you have one please bring it!
You are in control of your own energy! Nobody else! Just you!
Everything is within you! You HAVE the power! You ARE the power!
Use your energy wisely and positively!
The cost for this workshop is €30 paid in advance.
If you wish to pay by phone please call +353 61 317721.
Learn more about Eileen McCourt here.
See a full list of our events here.