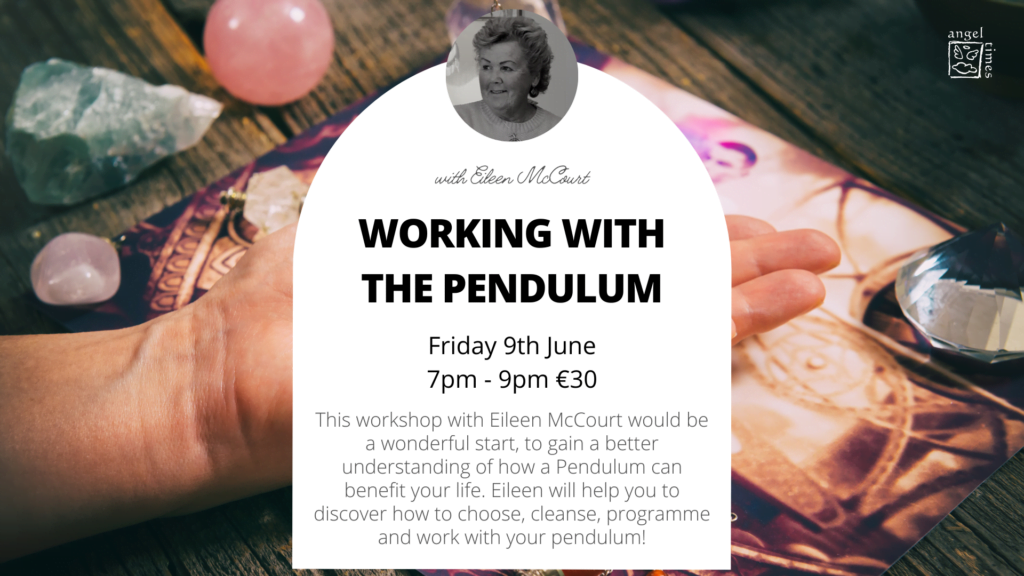 WORKING WITH THE PENDULUM WORKSHOP
Friday 9th June 2023
7PM – 9PM €30 IN ADVANCE
If you haven't used a Pendulum before, this workshop with Eileen McCourt would be a wonderful start, or indeed if you want to gain a better understanding of how a Pendulum can help you more. In the Working with the Pendulum workshop Eileen will help you to discover how to choose, cleanse, programme and work with your pendulum!
It's all about specifically wording your questions! Remember, – the pendulum can only answer YES or NO!
Pendulums are often used as a tool for your spiritual healing and inner growth. They are used as a form of reflection by asking questions to receive guidance, clarification, awareness and understanding, by connecting to your higher self to ask the question. Remember these questions need to be framed in a way that the answer will be either Yes or No!
They can also be used in healing by dowsing energy, by again connecting to the higher self. You can locate blocks in energy while using them.
You can ask the pendulum questions about any topic including: life, love, health, career, money etc. etc.! Whether the topic is simple or complex it doesn't matter!
Please bring your own pendulum with you! If you don't have one already, you can get one online here or pop into the shop and we can advise on how to pick one to suit you!
The cost for this workshop is €30 paid in advance.
If you wish to pay by phone please call +353 61 317721.
Learn more about Eileen McCourt here.
See a full list of our events here.