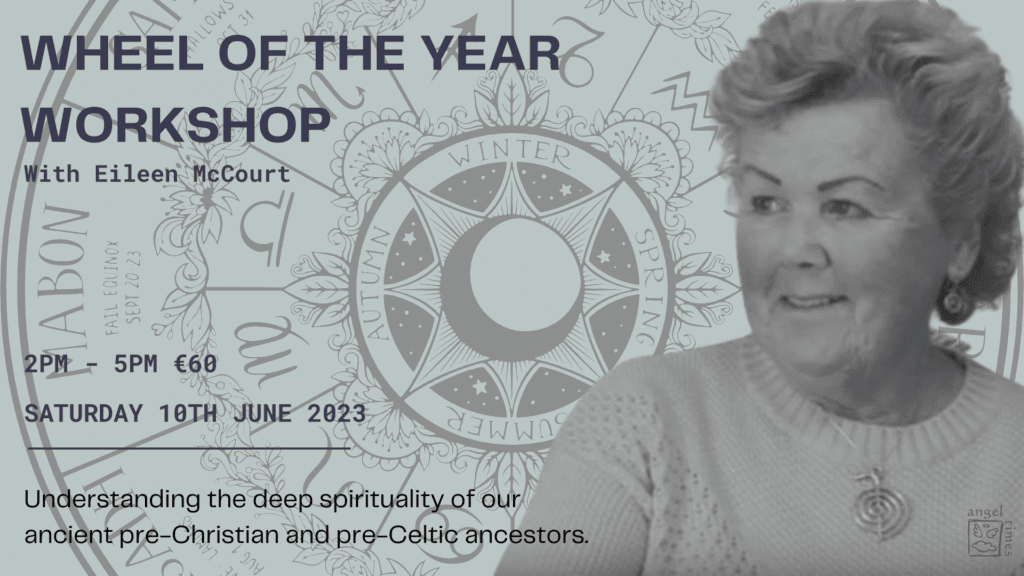 Wheel of the Year Workshop
with Eileen McCourt
SATURDAY 10TH JUNE 2PM – 5PM
€60 INCLUDING €30 DEPOSIT
In this Wheel of the Year Workshop Eileen will guide you through the eight points in the wheel of the year. This will help you understand the deep spirituality of our ancient pre-Christian and pre-Celtic ancestors.
Mother Earth is a living, breathing, vibrant organism. Mother Earth provides absolutely everything we need and have – everything comes from the Earth. All life comes from the dark warm womb of Mother Earth. There can be no other way.
We live in a highly materialistic, commercialised, graceless and soul-less world. A world we ourselves have created through our own greed, and our desire for more, more, and still some.
The world of our ancient ancestors was a different way of life. They were embedded in the natural energies coming into our world from the Cosmos. Their calendar was a solar, cosmic calendar, defining the 8 clear demarcation points in their year, based on the natural cycles and energies, on the movements of the sun and on the cycles of the moon. And so they created their WHEEL OF THE YEAR, or WHEEL OF THE SUN.
In comparison, we follow the man-made calendar!
THE WHEEL OF THE YEAR
Our ancestors constructed their monuments on our ancient sacred sites to guide them through their year, each sacred site built in alignment with cosmic energies.
In their Wheel of the Year, there were 2 solstices, Winter and Summer; 2 equinoxes, Spring and Autumn; 4 Seasons, Samhain, Imbolg, Bealtaine and Lughnasa. Each celebrated with a great Fire Festival.
What did each of these 8 points in the yearly calendar mean for our ancient ancestors?
What do they mean for us today?
How can we regain the wisdom and knowledge of our ancient ancestors?
How can we find and interpret all the signs in our world that the Universe is constantly sending us? – As our ancient ancestors did!
The cost for this workshop is €60 including a deposit of €30.
If you wish to pay by phone please call +353 61 317721.
Learn more about Eileen McCourt here.
See a full list of our events here.