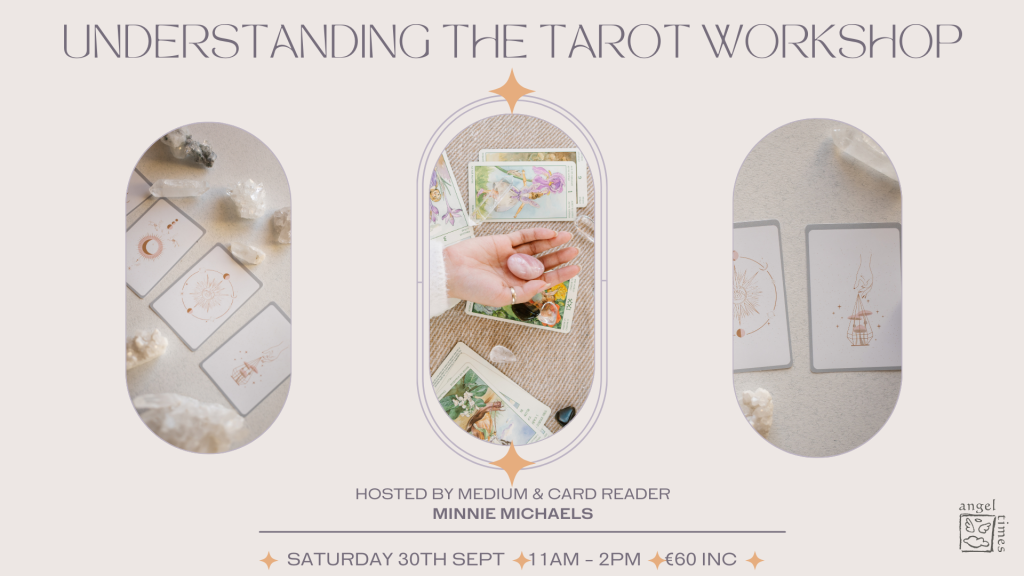 Saturday 30th September 2023 at 11am – 2pm
Join well known psychic & tarot reader Minnie Michaels for a step by step training course – Understanding the Tarot Workshop.
This workshop has been created to help beginners at the start of their tarot journey. Those attending this workshop will be given guidance on the significance of the cards, pathways to interpreting the cards and intuitive layouts. You will learn how to do a tarot reading for yourself firstly, and then for friends and family. This workshop will advise on setting up tarot spreads as well as explaining the different suits. Along with host Minnie Michaels attendees of Understanding the Tarot Workshop will look into the major arcana cards and understand the difference between wands, cups, pentacles, swords and many other well-known Tarot symbols. During this three hour workshop you will connect to your intuition while doing a deep dive into the world of tarot with practical and easy to understand guidance.
Attendees must bring:
Any tarot deck
3 different coloured pens (eg – blue, black and red)
Notepad
This workshop costs €60 including a deposit of €30.
ABOUT MINNIE MICHAELS
Minnie Michaels is an experienced professional Psychic Medium. She has trained with some of the most prestigious Psychic Mediums in the world. With several years of experience Minnie is considered to be an excellent medium.
Minnie has been giving professional psychic and tarot readings, while also running workshops for many years now. She is known to be professional, accurate and insightful.
If you wish to pay by phone please call +353 61 317721.
For a full list of Angel Times workshops please click here.
Learn more about tarot here.