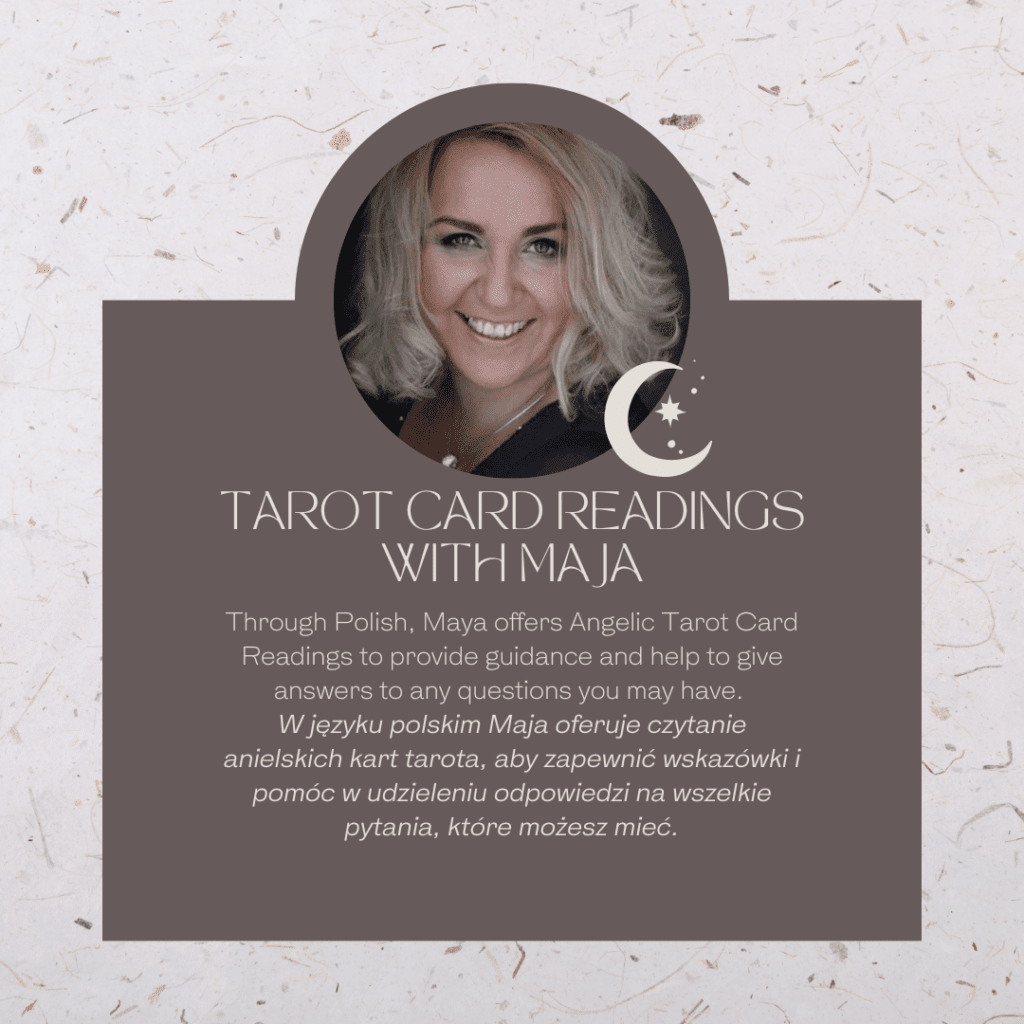 Maja is gifted with the extraordinary gift of intuition. Supported by Angels and Spirit Guides, she will help you find answers and clues of a spiritual and existential nature from Your Angels and Guides using Angelic Tarot Cards.
Maja has been reading cards for many years, and remembers throughout her childhood and into her adult life times when she would have a feeling something was coming or about to happen and was always correct. Now, Maja has developed her skills and is ready to share her abilities with the world through her native language of Polish.
These readings last approximately 40 minutes and cost €60 including a €20 deposit.
To book a reading with Maja please contact Angel Times on 061 317721 and we will organise a date and time that is suitable for both you and Maja.
*Please note these readings only take place in Polish and would not be suitable for those not fluent.
Maja obdarowana jest niezwykłym darem intuicji. Wspierana przez Aniołów i Przewodników Duchowych pomoże Ci odnaleźć odpowiedzi i wskazowki natury duchowej i egzystencjalnej od Twoich Aniołów i Przewodników przy użyciu kart tarota anielskiego.
Maja od wielu lat czyta karty i pamięta czasy dzieciństwa i dorosłego życia, kiedy miała przeczucie, że coś się zbliża lub niedługo się wydarzy i zawsze miała rację. Teraz Maja rozwinęła swoje umiejętności i jest gotowa dzielić się swoimi umiejętnościami ze światem poprzez ojczysty język polski.
Aby umówić się na czytanie z Mają, skontaktuj się z Angel Times pod numerem 061 317721, a my ustalimy datę i godzinę, która będzie odpowiednia zarówno dla Ciebie, jak i dla Mai.
Please also see our Deposit & Cancellation Policy.
"Please note that readings are intended to be used for guidance purposes only and you should not make any decisions based solely on a reading. Please always seek professional advice when needed."