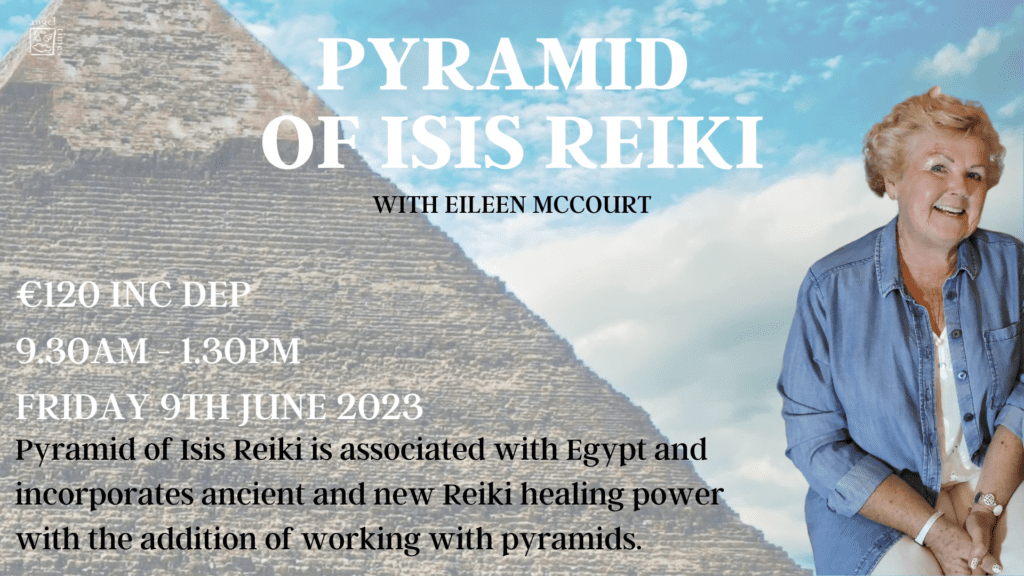 Pyramids of Isis Reiki Practitioner Level with Eileen McCourt
FRIDAY 9th JUNE 9.30AM – 1.30PM
€120 INC €60 DEPOSIT
Pyramid of Isis Reiki is associated with Egypt and incorporates ancient and new Reiki healing power. In addition this works with pyramids. Pyramid of Isis Reiki is a combination of the Egyptian attunements. It includes Isis Moon, Sekham Seichem, Golden Ankh, Ra Sheeba (Golden Snake), Pyramid Gaza, Sacred Geometry and Golden Triangle Reiki. Attunement to Pyramid of Isis will activate geometric etheric energy within your aura. The energy will be intensified after your attunement to use your palm chakra healing for creating powerful etheric grids. These grids can be used to give additional power to your healing session. You can also use the grid to create shields which protect against negative forces. Archangel Metatron creates etheric energy grids and now you too will have the ability to do the same. Metatron instructs Goddess of Isis healers in their dreams on how to use the natural flow of the physical body using geometric shapes. One of these shapes is the triangle. The energy is channelled similar to crystal energy using laser waves pushing and pulling. Isis Reiki incorporates the Reiki with the natural flow of the meridian lines throughout the body to penetrate deeper on a cellular level. Isis Reiki also uses crystals, orgonites and copper for healing, as in ancient Egypt. There is lots more information on this wonderful workshop below. The cost for this workshop is €120 in deposit of €60. If you wish to pay by phone please call +353 61 317721. Learn more about Eileen McCourt
here.
For a full list of Angel Times workshops please click
here.
More information on Pyramids of Isis Reiki –
Symbols include: Triangle; the Uzu Symbol; Ahara; Isis; Akru; Tet; Infinity; Zara; Eeef T Chay; High-Low God; Connection Path; Seal of Isis and Sankak kei Symbol. After your attunement, you will have the power to invoke the pyramid grid energy not just for healing but for creating a safe environment within your home and work. Goddess Isis is a loving, wise and powerful ally to help you combat anything that makes you or others unhappy. Use her energy to connect you to the Golden Pyramid energy so you increase your psychic gifts in healing, protection and inner wisdom. On this course you will have been given the gift of Pyramid of Isis Reiki using Orgone energy and the powerful brass pyramid, possibly the strongest and most powerful healing to date. For further information, please visit Eileens
website,
 click on modalities page and scroll down to page 57.