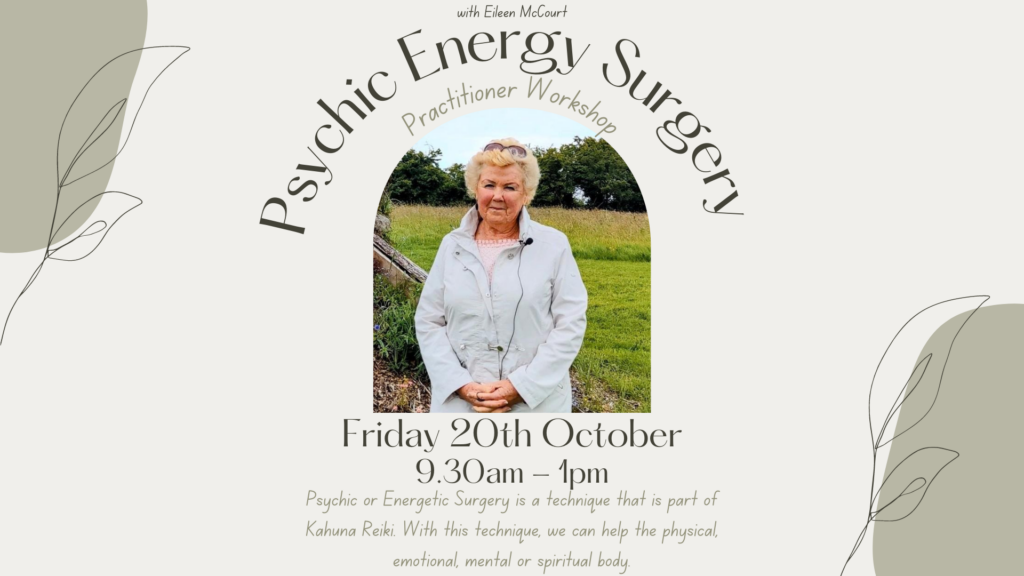 Psychic Energy Surgery Practitioner Course
Friday 20th October 2023 – 9.30am – 1pm
€120 inc €50 deposit
The Psychic or Energetic Surgery Practitioner Course is part of Kahuna Reiki. The word 'Kahuna' comes from Hawaii and means priest, master, expert or counsellor. With this technique, we can help at different levels, – physical, emotional, mental or spiritual. It is important to remember that this is not meant to be a replacement or substitute for medical surgery or medical treatment.
Psychic or Energy Surgery can be used on its own or combined with other kinds of Reiki.
With the surgery, the practitioner goes to the blocked energy, and removes it from the client, with a scooping, pulling, or scraping movement. Once this is completed, the area is sealed with the amethyst crystal. These blockages are the result of non-harmonic emotions such as envy, hatred, jealousy, bitterness, resentment, anger, etc, and removal of these emotions enables the person to go ahead in their life.
The attunement symbol is the ZONAR.
A powerful and effective technique which will greatly enhance your healing practice.
To attend this workshop you must have previously completed Reiki Level 1 & 2.
The cost for this workshop is €120 including €50 deposit.
If you wish to pay by phone please call +353 61 317721.
*Please Note – This practice has nothing to do with a ritual used in the Phillippines where a Shaman takes out 'stuff' from your body!
Learn more about Eileen McCourt here.
See a full list of our events here.