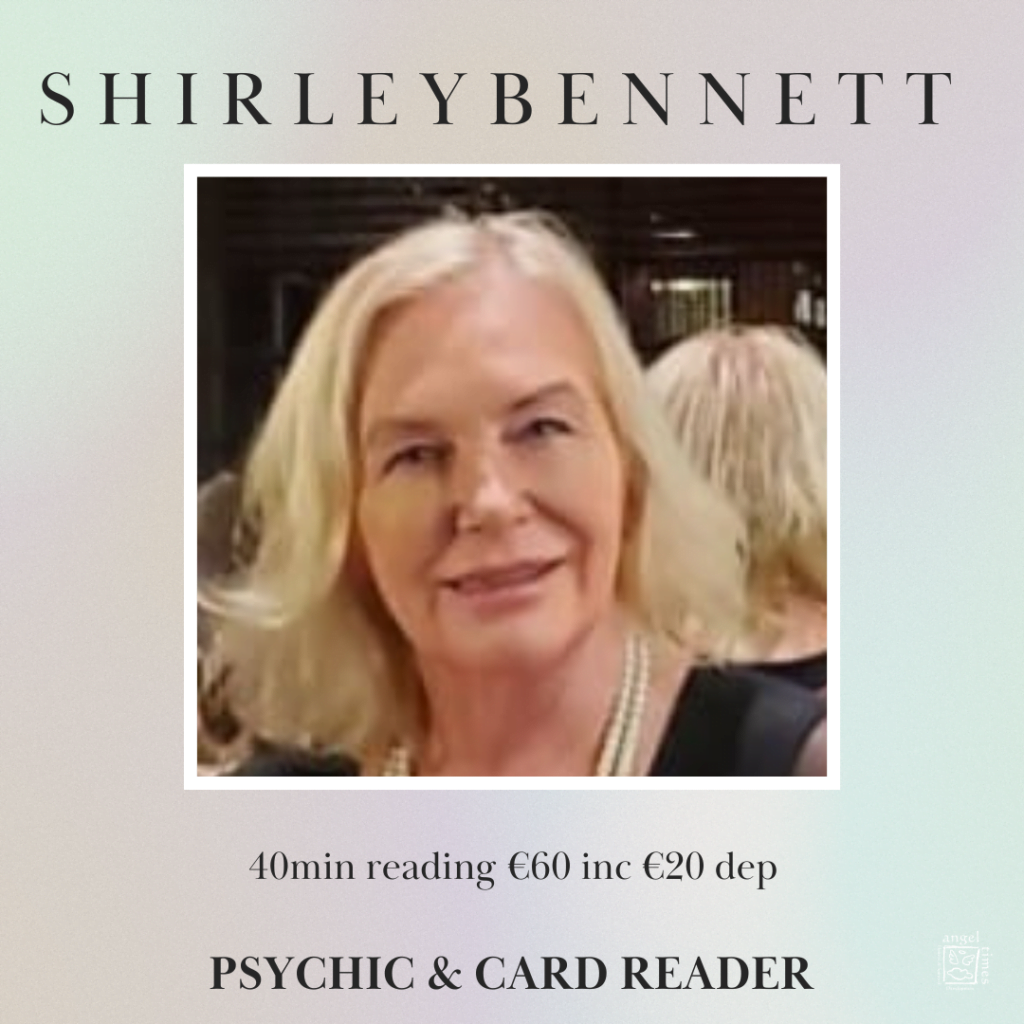 Shirley Bennett is a psychic reader and a healer. Shirley makes a direct connection with those that support her, including angels, spirit guides and most importantly, your loved ones. When Shirley connects to the angels, spirit guides and those who have passed they pass on messages of comfort, guidance and love. 
Shirley will give you the guidance that you are looking for in any area of your life. Using both her intuition and Angel Cards Shirley will answer any questions asked, or just guide the client and tell them what the universe feels they need to know at that time.
During readings, Shirley will often see passed loved ones and is able to communicate with them to bring fond memories, comfort and the knowledge that they are at peace.
The format of a reading with Shirley is up to you. If you have specific questions you can ask at the beginning, or you can just let the reading flow and see what the angels and spirit guides would like you to know.
Shirley is grateful that her gift allows her to be able to help people in their time of need.
A 40 minute reading costs €60 including €20 deposit.
Please see our Deposit & Cancellation Policy here.
TESTIMONIALS
"I had a reading with Shirley recently and was blown away. Shirley has a wonderful gift, and I am so glad she has the space to share it. My grandmother had died just a few days before I saw her and I was delighted to be reminded of such gorgeous memories I had almost forgotten from my childhood. As well as communicating with passed loved ones, she was able to give guidance and advice from the angels on how to manage current issues in my life. I would highly recommend a reading with Shirley." – Rachel
"Shirley is an amazing reader, compassionate and just so accurate about what is going on in your life physically and on every level. I would highly recommend Shirley for a reading if you are struggling with health issues and in need of deep emotional healing to move forward in your life." – Fiona Glynn
"I recently had a reading with Shirley , I found her to be open, genuine and compassionate
I had two specific questions and Shirley had them answered before I asked, which was a beautiful validation for me , she guided me on the right path for me going forward. I would highly recommend Shirley if you're looking for guidance in a non judgmental, loving environment" – Martina