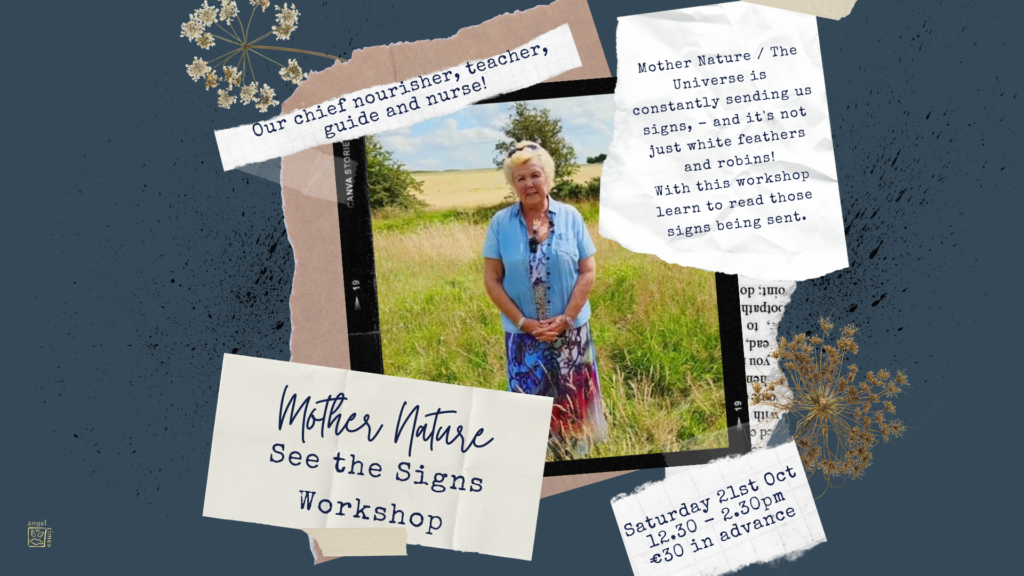 MOTHER NATURE – SEE THE SIGNS WORKSHOP
Saturday 21st October – 12.30pm – 2.30pm
€30 in advance
MOTHER NATURE is our chief nourisher, teacher, guide and nurse!
Mother Nature – See The Signs Workshop will help you with Seeing and interpreting the signs from Mother Nature/ The Universe.
The Universe and Mother Nature is constantly sending us signs, – and it's not just white feathers and robins!
The key to recognising and understanding the signs from Mother Nature lies in understanding the great cosmic hologram, and how, if you cut a hologram up into tiny pieces, each and every tiny piece still contains the entire hologram, – so each and every tiny piece is contained within each and every other tiny piece.
In addition, each and every one of us is a microcosm of the macrocosm of the One Great Universal Energy we call God. Everything is contained within each one of us. This is the key to recognising and interpreting the signs constantly being sent to us!
How?
Well, that is what this workshop is all about!
The cost for this workshop is €30 paid in advance.
If you wish to pay by phone please call +353 61 317721.
Learn more about Eileen McCourt here.
See a full list of our events here.