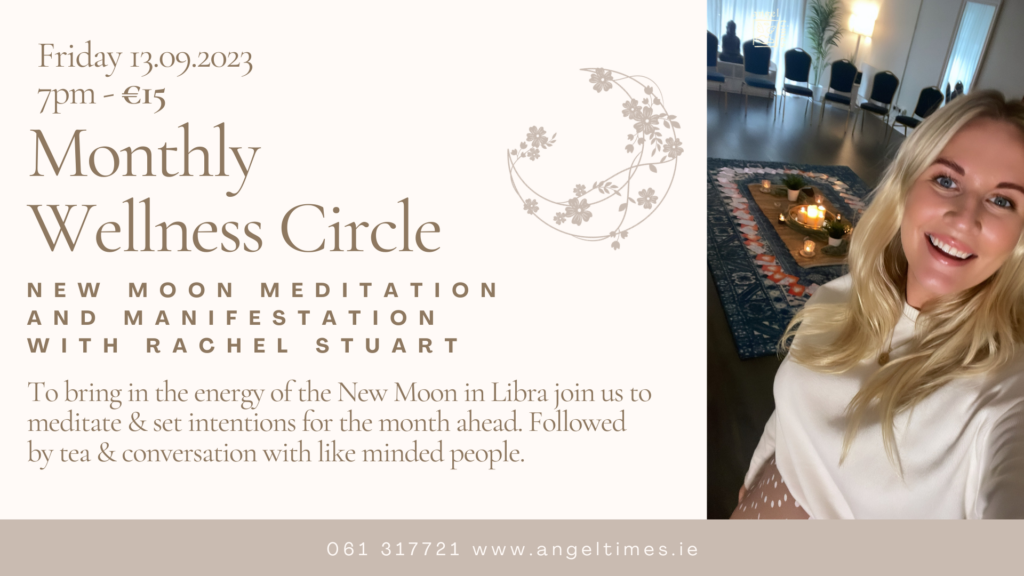 Monthly Wellness Circle – New Moon Meditation & Manifestation
Friday 13th October – 7pm – 9pm
€15 in advance
Join The Monthly Wellness Circle in the Studio at Angel Times.
As the darkness of the new moon blankets the night sky, it offers us an opportunity to turn inward, set intentions, and harness the profound energy of new beginnings. In this serene and nurturing gathering, we invite you to embark on a transformative journey through meditation, manifestation, and intention setting.
Guided Meditation: Begin the evening with a calming and grounding meditation led by Rachel Stuart. As you connect with your inner self, you'll release old energies and make space for new intentions.
Intention Setting: Dive deep into your heart's desires and set clear and purposeful intentions for the coming lunar cycle. Write these down in a letter to your future self as a way to manifest your truest desires.
Community Connection: Share your experiences, thoughts, and intentions with a supportive and like-minded community. Connect with others on the same journey and foster a sense of belonging.
The new moon symbolizes fresh beginnings and provides a powerful canvas to rewrite your life's story.
By participating in this wellness circle, you'll:
– Gain clarity on your desires and goals.
– Develop mindfulness and self-awareness.
– Cultivate a sense of peace and balance.
– Connect with a supportive community.
– Set the stage for personal growth and transformation.
Book now for €15 through the link below or by calling us on 061 317721.
The cost for the Monthly Wellness Circle is €15 paid in advance.
If you wish to pay by phone please call +353 61 317721.
See a full list of our events here.