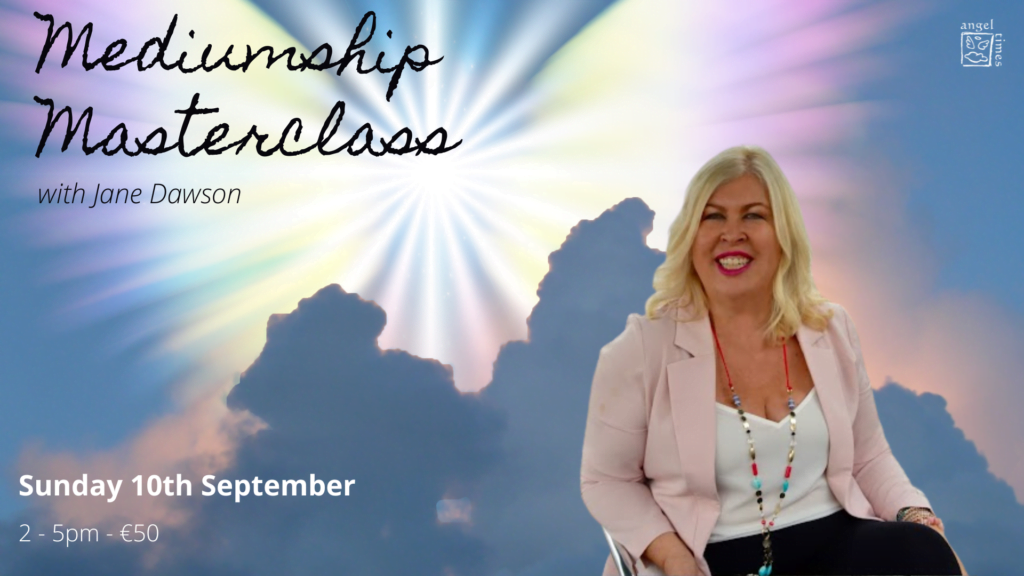 Mediumship Masterclass with Jane Dawson
SUNDAY 10TH SEPTEMBER 2 – 5PM
€50 IN ADVANCE
Join world renowned psychic medium, author, and spiritual teacher Jane Dawson and discover how to step beyond your comfort zone and develop your intuitive and spiritual gifts in a safe and supportive environment. What you'll learn:
How to easily connect with your own Spirt & your Spirit guides
How to give great readings to friends or clients
How to get jaw dropping information & evidence in a stress free way
How to perform an awesome one to one session
How to work on the public platform
The power of colour in communication
How to become a respected professional medium
And much more
Our Spirt teams will decide exactly what ground we cover on the day, and you may ask any questions you wish. What to Bring:
Paper, pen and coloured pencils crayons etc
An open mind
A sense of fun and lightness
So if you're ready to take your skills as a medium or psychic to the next level do join us in Angel Times on Sunday 10th September at 2pm. This workshop costs €50. To find out more about Jane click
here.
If you wish to pay by phone please call +353 61 317721.