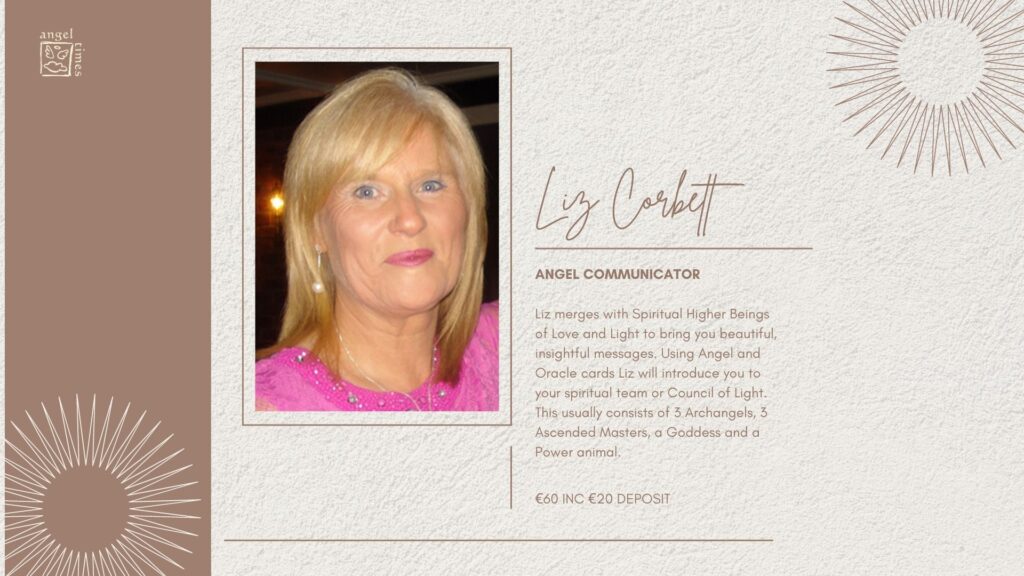 Liz Corbett Angel Reader is an Angel Master and Spiritual Channel.
Her message to clients is "You're Never Alone". She works with your Angels, Archangels and Spiritual Guides.
Liz will empower you, and enhance your life with their Spiritual messages. She uses Oracle Cards to help you gain clarity, and, inspire you to overcome and transform any difficult challenges, energies or situations. Liz is also use Spiritual Energy Clearing with Archangel Michael, the Healing Archangels and your own Guardian Angels to clear any stuck energies or situations that may be keeping you from moving forward with your life.
Liz Corbett will help you realise your true potential through YOUR Divine Connection with Spirit so that you can begin to transform your life today.
Each reading lasts 45 mins long and cost €60 inc €20 deposit.
To book a reading in Angel Times use the calendar below.
TESTIMONIALS
"It was a new experience for me to go to Liz for a reading. It's something I would have been very cynical about in the past and I didn't really know anyone who goes for Angel Card Readings. Being used to practical therapies like life coaching where they take a more logical approach I must say that working with Liz blew my mind. The connection I felt and the sense of truth in the information I was receiving was phenomenal."– Breda
"Liz is a very intuitive soul with a beautiful energy. Her guidance really is transformative and empowering. I feel an even deeper connection to my guides now. Liz has helped me get clarity and focus for the future. I highly recommend Liz's services. Thank you Liz!" – Sinead
Follow Liz's journey on Facebook.
"Please note that readings are intended to be used for guidance purposes only and you should not make any decisions based solely on a reading. Please always seek professional advice when needed."