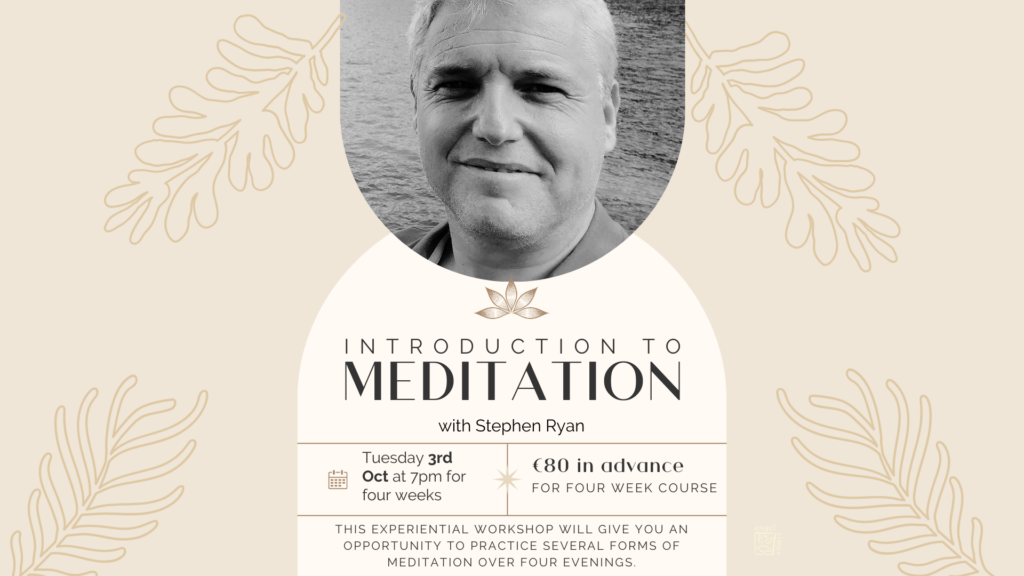 Introduction to Meditation with Stephen Ryan
Starting Tuesday 3rd October 7pm – 8.30pm – €80 in advance
Begin a journey of self-discovery and inner calm with the Introduction to Meditation workshop with Stephen Ryan. This 4-week experiential workshop is designed to introduce you to various meditation techniques, helping you find your inner peace and experience the benefits of meditation.
Over the course of four evenings, you will have the opportunity to experience several forms of meditation including Buddhist Breathing, Guided Meditation, and Awareness of the Senses.
This workshop is designed to be interactive and experiential. You will actively engage in meditation practices during the sessions, allowing you to experience it's effects firsthand.
Attendees will be encouraged to continue practicing the meditation methods on their own time between sessions. You will also have the chance to share your experiences and discuss any questions or insights that arise during the group discussions.
In addition, there will be an introduction to using a Singing Bowl during meditation. You will also receive an overview of the use of Mantras for meditation.

By the end of the four evenings, you'll have gained a better understanding of the experience of meditation. You will discover which meditation methods resonate most with you and suit your individual needs.

We will be sitting on chairs for this workshop. However, if you prefer, feel free to bring your own meditation cushions or stools.

Course Details:
Session Dates: October 3rd, 10th, 17th, and 24th
Time: 7:00 PM – 8:30 PM
Course Fee: €80 (Advance Payment)

To secure your spot reserve in advance. If you prefer to pay by phone, you can call +353 61 317721 to complete your registration.

Join us on this journey, and discover the benefits that meditation can bring to your life.
For a full list of Angel Times Workshops click here.