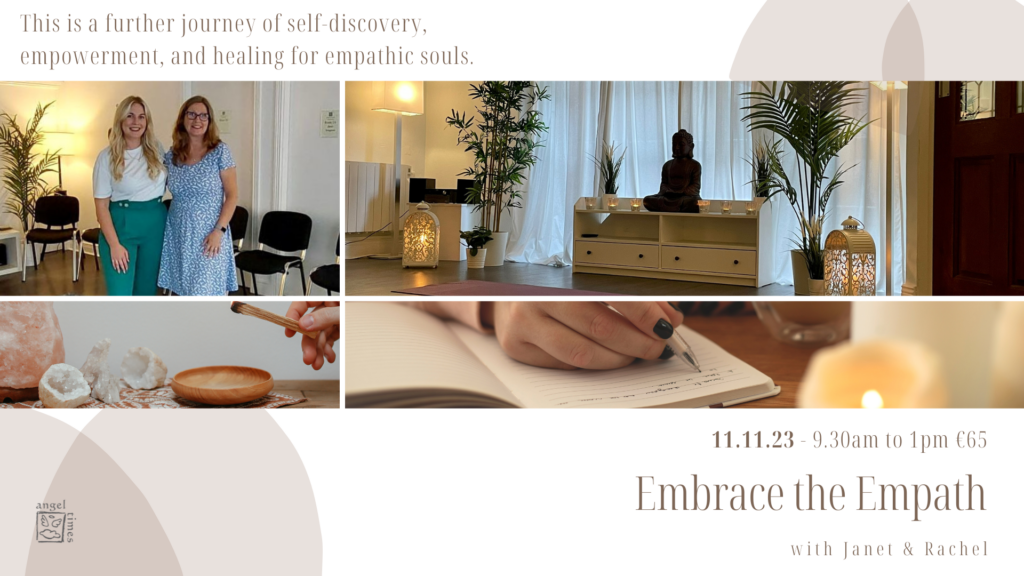 Embrace the Empath
Saturday November 11th, 9:30am – 1:00pm.
€65 (Advance Booking Essential)
Join us for Embrace the Empath – a further journey of self-discovery, empowerment, and healing as mother and daughter duo, Janet and Rachel, guide you through an immersive workshop designed to embrace empathic souls like you. Taking place on the special date of 11.11, this event holds significant energetic resonance for setting intentions and harnessing transformative energies.
Janet and Rachel, a dynamic duo known for their compassionate guidance and insightful teachings, return to lead this empowering workshop. With their combined wisdom and experience, they are dedicated to helping highly sensitive individuals embrace their empathic abilities and navigate life's challenges with grace and strength.
Workshop Highlights
11.11 Energy Meditation: Enjoy a guided meditation designed to tap into the unique energies of this auspicious date, amplifying your intentions for personal growth and healing.
Navigating Relationships: Discover techniques to recognize, shield against, and heal from interactions with narcissists and energy vampires. Learn how to establish healthy boundaries and create spaces of emotional safety.
Forgiveness and Self-Love: Explore the transformative power of forgiveness and its role in your healing journey. Embrace techniques that nurture self-love and acceptance.
Overcoming Self-Doubt: Gain insights and practical methods to overcome self-doubt, fostering a stronger sense of self-esteem, confidence and trust.
Crystal Energy: Uncover the benefits of utilizing crystals for grounding, protection, and enhancing your empathic abilities.
Journaling Exercises: Engage in thoughtful journaling exercises to delve deeper into your emotions, experiences, and reflections.
Discover the art of using your body as a pendulum for intuitive guidance.
Participate in group activities, including intuition exercises and a collective energy clearing session, fostering a sense of community and shared growth.
On top of all the above, we will be delving further into tie cutting, energy clearing, grounding and protecting practices as well as so much more!
The price of this workshop includes a wonderful gift to help you on your daily journey as an empath!
This workshop is a powerful opportunity to connect with fellow empaths, enhance your intuitive skills, and embark on a path of healing and transformation. Janet and Rachel's guidance will empower you to navigate your empathic journey with strength, confidence, and renewed purpose. Secure your spot in advance to ensure you don't miss out on this transformative experience. Join us on 11.11 and unlock the tools to embrace your empathic nature and create a life of empowerment and positivity.
Find out about all Angel Times workshops here.
Here is some feedback from previous happy clients…
"The nurturing the empath workshop was such a special experience. Being in circle with fellow empaths was an experience that I will never forget, the energy was so healing! Learning such wise grounding and protecting techniques and life skills from such wonderful souls Mother Daughter dream team Janet and Rachel made me leave feeling not only enlightened and seen as an empath but lighter on the feet like I now know what my soul craves and how to feed it. I felt blessed to be apart of something so important supporting my spiritual self-care. I will be at the next workshop in a heartbeat!" – JS June 2023
"Myself and my cousin attended the Nurturing the Empath Workshop on Thursday night, it was such a lovely evening. The last few days it's been beautiful practicing the grounding and protection routine. Seeing the bond between Rachel and Janet was just so beautiful. Thanks so much again." DR June 2023