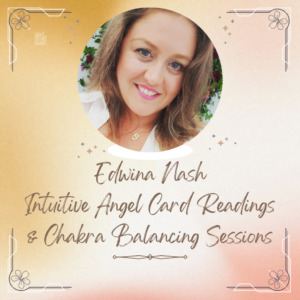 Chakra Balancing Healing Sessions with Edwina Nash.
We are delighted to welcome Edwina to Angel Times offering Readings & Healings. Edwina has a background in nursing so has experienced the medical approach to care as well as holistic and strongly believes that once we uphold our wellness and health via the holistic route we will greatly reduce or even eliminate the need for medical interventions. 
During Edwina's training as a Bio-Energy Therapist her abilities, awareness & intuition grew stronger than ever. She was aware of the presence of Angels, spirits and loved ones in the room with her while providing healing. This grew into Edwina now offering Intuitive Angel Card Readings.
Chakra Balancing Healing Sessions
Chakra Balancing through Bio-Energy Therapy is a non-invasive, gentle & safe healing therapy. It looks to identify where imbalances & blocks have happened in the chakras & clears these blockages & imbalances while also providing healing to relevant areas of the body. This returns the body back to balance, brings the immune system to optimum levels allowing the client to feel renewed, healthy & well.
The client's experience
Relaxation
Rejuvenation
A feeling of "a weight lifted"
Reduction in aches & pains
Reduced feelings of overwhelm, anxiety or low mood.
Better sleep
A sense of wellness
& more
Each healing lasts approx 1 hour and costs €85 inc €20 deposit. 
Please see our Deposit & Cancellation Policy here.
To find out more about Edwina you can go to her social media here.