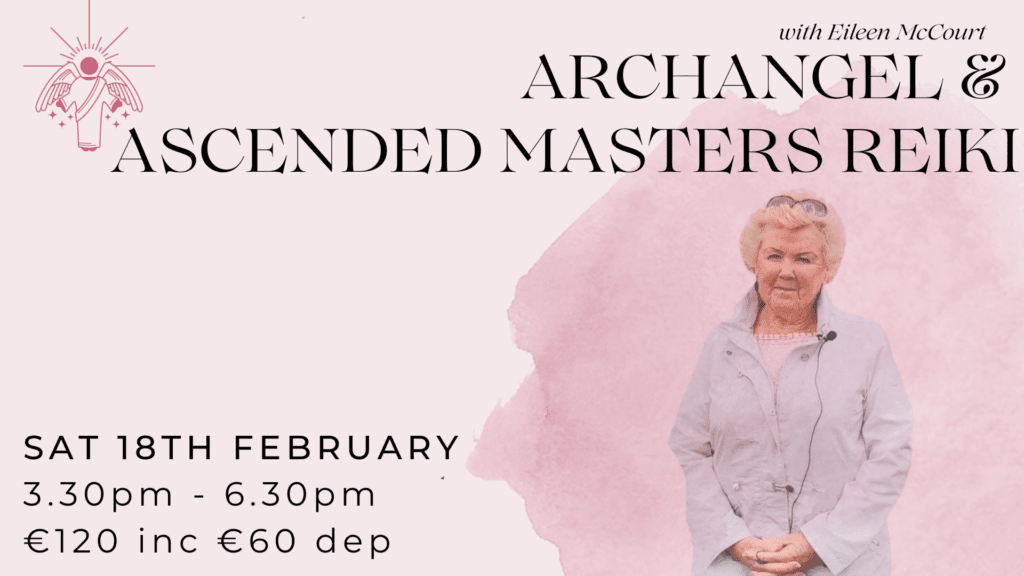 Archangels & Ascended Masters Reiki Practitioner Level
with Eileen McCourt
SATURDAY 18TH FEBRUARY FROM 3.30pm – 6.30pm
€120 INCLUDING €60 DEPOSIT
Archangel Ascended Master Reiki brings the healing energy of both Ascended Masters and Archangels together, channelled through Master healers. In this beautiful treatment, Archangel Metatron and Ascended Master Sananda unite their energy using the new Ascension Opal Healing Ray.
ARCHANGEL ASCENDED MASTER REIKI: Since 2012 and the upliftment of the earth's vibration, new advanced energy is now being channelled to Lightworkers on earth. Never before has the angelic realm been able to descend close to the physical energy of the earth for long periods of time. Now for the first time, many Ascended Masters and Archangels are able to combine and unite their energy to assist Reiki masters. Archangel Metatron and Ascended Master Sananda (Jesus) unite their energy in this extraordinary healing modality using the new Ascension Ray called the Opal Healing Ray.
There is lots more information on this wonderful workshop below. 
The cost for this workshop is €120 in deposit of €60.
If you wish to pay by phone please call +353 61 317721.
Learn more about Eileen McCourt here.
For a full list of Angel Times workshops please click here.
More information on Archangel Ascended Master Reiki –
The Opal Ray camouflages Lightworkers from dark beings especially off-planet saboteurs that are trying to prevent Ascension. Archangels are the angels which have evolved into advanced light beings over many thousands of years. Their role is to oversee the angels who watch over human beings and to help Source. Archangels are the highest ranking angels in heaven, and they do their work both in the heavenly dimension and in the earthly one. There are two exceptional Archangels who are different from the others and they are the Archangels Metatron and Sandalphon, because they were once human. One of these, Metatron, has been chosen to work with the Opal Ray and help healers attune to its energy. Ascended Masters are souls that have been many times in human bodies through various life experiences. Their souls will have learned good and bad ways through which they have evolved into a wise being. Ascended Masters have received many initiations/ attunements in the Higher Realms. They now each hold positions of great responsibility, overseeing the earth and its growth, or they work on a cosmic level. They sometimes change their positions and gain 'promotion' by their service and help to humanity. New Ascended Masters are evolving all the time. For the first time on earth there will be Ascended Master in human form walking amongst us, and this has only been made possible since the earth's attunements in 2012. Every person is evolving into an Ascended Master, with some taking longer than others to learn life's lessons. For centuries Archangels have watched over mankind but until now they have remained in the upper etheric levels of heaven. Metatron for a long time has been working with the Lords of Karma and Ascended Masters so it was a natural progression that he suggested the Ascended Master Opal Healing Ray. Metatron was and is the ideal choice to initiate healers with the help of Sananda to the Archangel Ascended Master Reiki. The healing is powerful as it will change and adapt to the needs of the individual. This energy seems to have a 'mind of its own' and is rarely felt the same. Archangel Ascended Master energy changes its frequency to respond to what is injured or blocked. It is very versatile in that it can work on the soul and the mind at the same time as working on the physical body. Metatron works with his symbols to channel energy down a healer's crown chakra vortex. He then spins and pulsates his symbols to create a powerful healing beam. His healing is sent in the form of the vibration of those sacred geometric shapes entering your system at your crown chakra and flowing through all chakras for perfect balance. Ascended Master Sananda was formally known as Jesus. Sananda is a very humble and private Light being who often helps healers in the 'back-ground'. He works to help all mankind, especially children who have chosen spiritual parents. Sananda helps many lightworkers in their dreams by giving them advice and counselling them on human and spiritual problems. He is wise and a very good listener. Sananda is one of the members of the High Council and of the Universal Lords. He represents earth on many Universal matters and has an understanding of many Light beings of other worlds. Sananda's previous lives include Adam, Jeshua, Joshua, Elijah and Joseph of Egypt. Until recently, he was working with Archangel Uriel to bring peace, brotherhood, service and freedom to people. This is another reason why Sananda was chosen to help Metatron with his work helping Uriel. Until recently, Sananda was always accompanied by his Mother Mary and Mary Magdalene. After your attunement to the Archangel Ascended Master energy, this Opal Ray will be accessible to you whenever you may need it. Archangel Metatron is associated with sacred geometric shapes and protective grids. The first symbol is the Metatron Star also known as the Merkaba Star, a combination of a series of triangles, very powerful in a room to keep the Divine light energy strong. The second symbol is the Flower of Life, one of the oldest symbols known to man, and composed of many evenly spaced and overlapping circles, arranged in a way to form the flower-like pattern. The third symbol is Metatron's Cube, representing how God has made shapes to fit together throughout creation, the way people's bodies and souls fit together. The fourth symbol is Archangel Michael's protection symbol, a circle within a triangle. The fifth symbol is the Shanti, similar to the Dai Ko Myo master Reiki symbol, but has the additional energy of the Archangel Reiki. After your attunement, just allow the guidance of the Archangels and Ascended Masters to lead you on your chosen path to happiness and love!