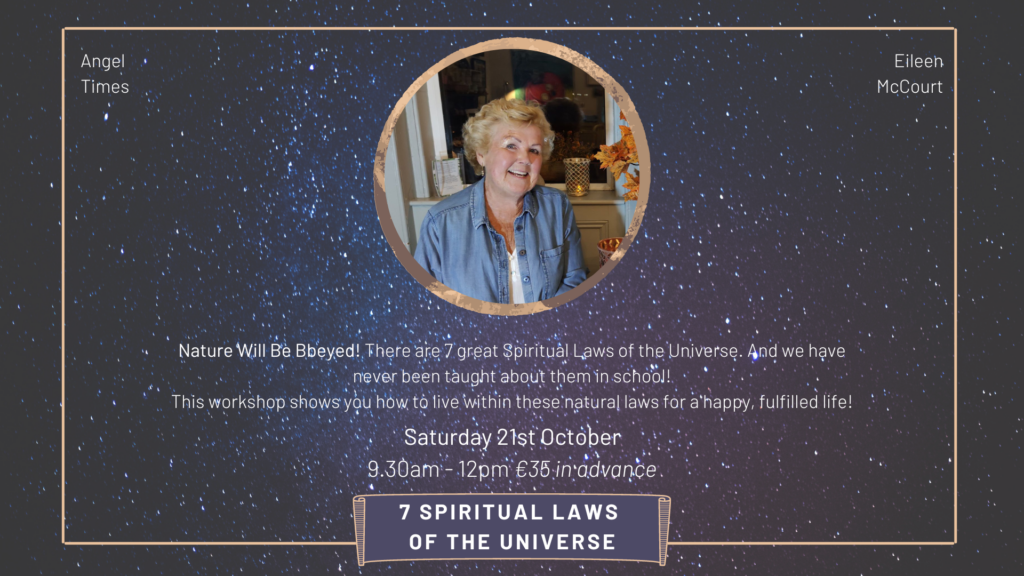 7 SPIRITUAL LAWS OF THE UNIVERSE WORKSHOP
Saturday 21st October 2023 – 9.30am – 12pm
€35 in advance
Nature Will Be Obeyed! The 7 Spiritual Laws of the Universe Workshop shows and how to live within them for a happy life.
There are 7 Spiritual Laws of the Universe. We are not taught about them in school! This workshop shows you how to live within these natural laws for a happy, fulfilled life. Moreover, disobeying them brings no punishment, – unlike the laws of the State. Break any of those and you will certainly face punishment!
NOT living within the 7 Spiritual Laws of the Universe simply means you are trying to swim upstream against the current. Why would you ever want to do that? – When adhering to them guarantees you a happy, fulfilled life!
NATURE, IN ORDER TO BE CONTROLLED, MUST BE OBEYED! Additionally, this means that in order to have Mother Nature / Universe work FOR us rather than AGAINST us, we must work and live within these laws!
So, what are these 7 Natural Laws? And how do we apply them to our own every- day living?
This workshop will show you how!
This workshop costs €35 and needs to be paid in advance.
If you wish to pay by phone please call +353 61 317721.
Learn more about Eileen McCourt here.
See a full list of our events here.